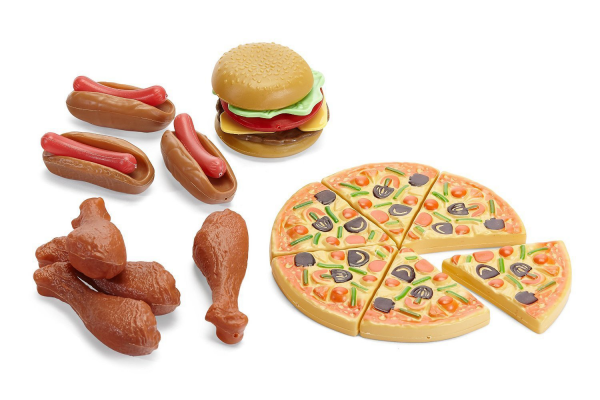 - April 7, 2017 /PressCable/ —
Since its launch, the Mommy Please play food has become the #1 ranked toy food set on Amazon.com. This is an incredible accomplishment for a new product, and the company recognizes the important piece that very loyal, enthusiastic customers play in this process. In order to celebrate these customers, this week Mommy Please announced that a customer of the month award will be given to one loyal customer each month.
"We have the most amazing base of customers," explained Mommy Please company spokesperson Elsie Murphy. "This #1 ranking on Amazon and continued sales increase are because of these loyal customers. We want an opportunity to recognize our customers – thank them for their support. One way to start this is that each month we choose from customers who have contacted us or left Amazon reviews, and from them will name a customer of the month."
The Mommy Please 125 piece toy food set contains a large variety of foods from each food group. Some of these foods include bananas, broccoli, carrots, cucumbers, corn, apples, watermelon, eggs, grapes, pears, asparagus, ice cream, french fries, pizza, hamburger, juice, chips, strawberries, and milk. Both healthy and non-healthy food choices are included in the play food set, to introduce children to a variety of foods, and help teach them how to make healthy food choices. The play food is made of a durable BPA-free plastic material; that is free from toxins and safe for children ages three and over.
Customers love Mommy Please play food set. The average customer rating is 4.7 out of 5 stars, with 96% of customers reviewing the toy saying they like the play food set. Over 360 happy customers have reviewed the toy food set on Amazon so far. One five-star reviewer wrote "I went back and forth trying to decide which set to get for my grandson. At 2 he's always trying to feed me imaginary food. From imaginary to pretend he hasn't stopped playing with this set since it came today. My plan was to split it up as mentioned by another reviewer, but he wasn't having it! He's alway in the kitchen at my side everyday. This is a great little set that will be used outside as well in his little swing/table clubhouse area. My spring and summer I'm sure will be filled with many pretend meals."
Sold exclusively on Amazon.com, the Mommy Please 125 piece play food set is currently on sale for $23.97. Any order over $49 will shop for free. Mommy Please stands behind their product, and any customer not 100% happy with their play food set can return it for a full refund.
About Mommy Please: "Mommy Please has worked tirelessly to bring children a play set that will never cease to keep their imaginations going. We strive to ensure that happiness, education, and creativity are all incorporated into play time every single day. As a company that focuses on family values, Mommy Please intends to influence the lives of families around the world."
Release ID: 184315