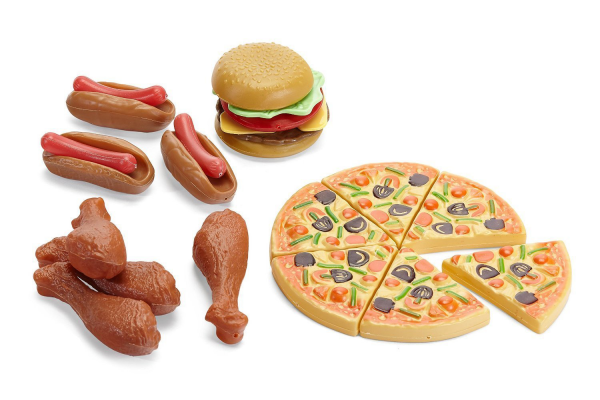 - January 16, 2017 /PressCable/ —
Sales for the Mommy Please plastic food set shattered goals and projections for 2016. This has lead Mommy Please, the maker of the top-selling 125 piece play food set, to set new review goals for the new year.
The popular plastic food set currently has over 320 reviews on Amazon.com, their exclusive selling partner. The current average review rating is 4.7 out of 5 stars. With the new marketing goal, Mommy Please plans to reach 500 reviews of 4.5 stars or better before the end of the year. One recent five-star review came from a verified purchaser who wrote "Items are realistic. My daughter said this was my granddaughter's favorite gift. So many food choices
Plays with each day. She selects different foods to play with so she never gets bored."
The Mommy Please plastic food set is BPA free and made of durable, shatterproof plastic. Designed to educate children through play, their play food set features a wide variety of foods from 4 different food groups. Some of the plastic food pieces contain fun food facts or nutritional information. The plastic food set features items such as pizza, waffles, eggs, milk, peppers, apples, broccoli, asparagus, tomatoes, potatoes, corn, cucumber, mushroom, watermelon, ice cream cone, grapes, strawberries, crackers and more.
When questioned about the company's success and ambitious marketing plan, a company spokesperson, Elise Murphy stated: "Why waste time? We expect nothing but greatness at Mommy Please, so we'll keep moving forward with our dreams, to create a healthy world by making the best plastic play food on Amazon. We have received some great customer feedback and reviews thus far; we are confident this will continue into the new year."
The Mommy Please 125 piece plastic food set is sold exclusively on Amazon.com, and is currently on sale for $23.91 – 48% off the retail price. All orders over $49 receive free shipping.
About Mommy Please: "Mommy Please desires nothing more than to bring education, prosperity, and (most of all) Health for children around the world. By providing an education tool known as the healthy organic play food set, Mommy Please is gearing its resources towards this single goals, hoping to touch the lives of children and parents around the world."
Release ID: 161769