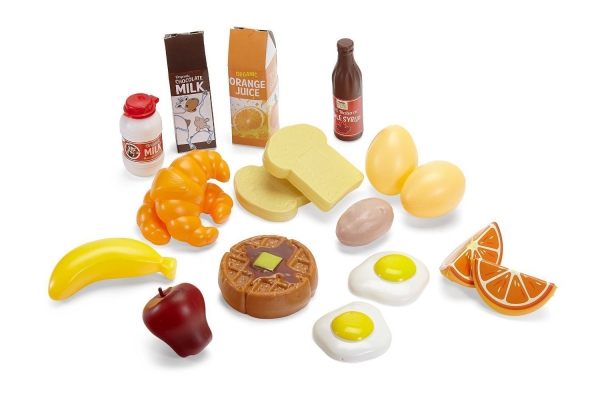 - November 4, 2016 /PressCable/ —
The Mommy Please play food set contains 125 pieces of food products that are fun for kids to play with, and educational at the same time. Some of the food includes fun food facts on the labels, and the set contains food from the four major food groups. The set includes: waffle, peppers, apples, asparagus, chicken, bananas, broccoli, cauliflower, chocolate bars, carrots, corn, croissants, cucumber, eggs, donuts, grapes, chips, french fries, pear, orange slices, watermelon, mushroom, pizza, ice cream cones, cherry pie, strawberries, bread, hamburger, sliced tomato, lettuce, cheese, hot dogs and buns, milk, juice, french bread, potatoes, crackers, lemon and more.
"We wanted our food set to be both fun and educational," said Mommy Please spokesperson Elsie Murphy. "We have included both healthy foods and non-healthy "fun" foods so that kids can explore the different food choices."
Customers love the Mommy Please toy food set. With over 500 customers reviews so far, 100% of customers say they like their toy food set. The average customer approval rating is 4.5 out of 5 stars. One satisfied customer wrote, "As infants both of my girls had multiple food allergies and many texture issues. Because of this Formula was their only source of nourishment until they were 2/3. They couldn't eat many foods but were still interested in them. I want to foster a good relationship with food from a young age, so these work perfectly for me for that! Both my girls were overjoyed when they opened the box and had SO many options of foods to play with! There was everything from fruits, veggies, milk, ice cream, french fries, pizza and chicken! They both sat for hours playing and making food for their dad and I to try and rave about how good it was! They are learning food names and categories and again this is helping a bunch! We were able to sort by colors, sort by type of food, sort by healthy and non-healthy and so many other things. So even though they can't eat these actual foods at this moment in their life, this is a great help at teaching and learning about food anyway! We have enjoyed this set and will for a long time to come!"
Sold exclusively on Amazon, the Mommy Please 125-piece toy food set is currently priced at $24.97. Free shipping is available for all Amazon.com purchases over $49. Mommy Please offers a satisfaction guarantee, and any customer not entirely happy with their play food set can return it.
About Mommy Please: "Mommy Please has worked tirelessly to bring children a play set that will never cease to keep their imaginations going. We strive to ensure that happiness, education, and creativity are all incorporated into play time every single day. As a company that focuses on family values, Mommy Please intends to influence the lives of families around the world."
Release ID: 143435