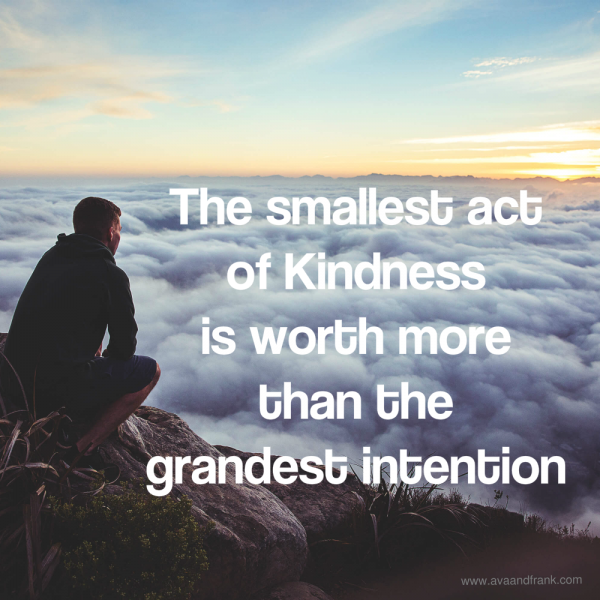 - September 3, 2016 /PressCable/ —
In today's busy world of getting on with daily living and the onslaught of gadget technology, i-pads, i-pods and androids, it is time for a little bit of HUMAN kindness and interaction for a change. This week sees the beginning of Be Kind to Humankind Week from last week in August to the beginning of September. One entrepreneur and mom, Amanda Steadman, who recently started a USA made art and craft brand online called Ava and Frank, has decided to encourage her team and customers to pay it forward. They will refocus their mind for the seven day Be Kind to Humankind period, to see how this approach can positively affect the working, living and community environment.
"The main reason this brand was started was because we wanted products that would bring a smile to people's faces, children primarily. A product that did NOT involve a phone or i-pad that would lead to greater interaction. Over the last few months we have seen the positive effects of our customers gifting an Ava and Frank face paint set or face painting for an event. The children get so excited, they laugh, they become more confident and when used amongst families, that longed for 'bonding' and 'quality time' happens. Siblings paint each other and mom gets completely covered in paint! It brings connection, fun and laughter. These are elements many of us forget in daily living, we just get busy. So with the Be Kind to Humankind week we wanted to actively participate and challenge ourselves to be kinder than usual! Whoever reaches a goal of performing the most random acts of kindness this week gets a spa treatment! Ava and Frank will also be doing competitions and giveaways through our Social Media to spread the ripple effect, to create more awareness of this event and see how some of these actions result in an improved, kinder world."
The Be Kind to Humankind Week (BKHK), was started by Lorraine Jara in Toms River, New Jersey in 1998 after reading about an unfortunate, fatal incident resulting from a lack of caring for human life. She wanted to create a movement that would recognize pure kindness and to celebrate it for a whole week at the end of August every year. Lorraine says "People need people; it's as simple as that! In order to have the power to make the world a brighter place, we must first change our attitudes for the better. We can create our own good news if we choose to do so!" Over the years Lorraine has had many supporters including Oprah, President Ronald Reagan, Shirley MacLaine and songwriters Paul Simon, Peter Gabriel and now Ava and Frank too.
Be Kind to Humankind Week has seven days of suggested activities and goals that can be aimed for:
Day One: Show Them That Caring is Cool
Day Two: Drive Courteously
Day Three: Spread Kindness, One Heart at a Time
Day Four: Offer a Helping Hand
Day Five: Treat Others Well
Day Six: Come Together
Day Seven: Say Something Nice
Being kind and fulfilling random acts of kindness, does not only benefit the person it is directed to, but also the person who is doing it. Recent studies published in Nature Neuroscience and The Journals of Happiness and of Social Psychology found that these self-less activities can naturally lead to increased health and happiness. Good deeds make people feel good, even when performed for a few days. They help create new associations in the part of the brain associated with joy and enhanced well-being. One Emory University study even found being kind releases endorphins, the same chemicals that are linked to an 'athlete's high'. So it could be called an organic 'helper's high'! and everyone is a winner! Not only that, going back to science again. when individuals are having their natural 'high', they are also more contented with themselves and the world around them. This is what Lorraine calls the 'ripple effect'. If the helpers and accepters are happy, the energy around them spreads to others and the random acts of kindness compound, great things happen and the world becomes a much better place, one person at a time.
Those interested in learning more about what can be achieved and what Ava and Frank are doing on the seven days of being kind to humankind, go to their website at http://www.avaandfrank.com to see the latest Blog and Facebook Page.
Those interested in purchasing their products can go directly to the product listing, here: http://www.avaandfrank.com
Direct Amazon Link –http://www.amazon.com/dp/B01C7KPYHE
Release ID: 130968