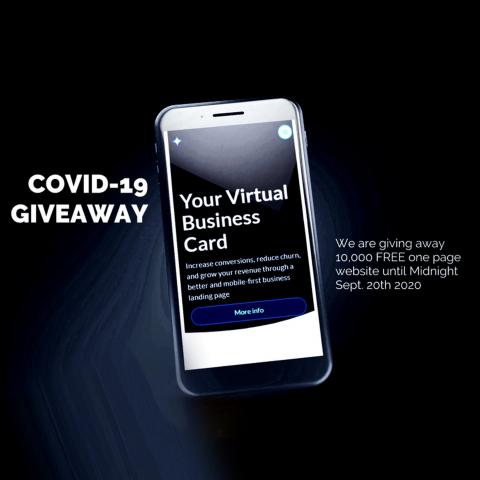 - July 24, 2020 /PressCable/ —
Mobile First Canada is going to offer a new element, the Covid-19 Giveaway which comes in the form of Digital Business Card, to which all new and existing customers are entitled. Mobile First claims COVID Giveaway to be their little step to help first 10,000 people avail the benefit of a FREE One-page Website called a FREE digital business card. All you need is to click the link here and REGISTER.
"We have already started extending our help to new start-ups, people who have lost their job in this pandemic and impacted businesses", said MC Mario, the project manager. In his words, "We realize how COVID-19 has adversely hit the global economy. Many people lost their jobs. Many businesses ruined. We want to help them with our expertise as our initiative to help the global community. And that's why this offer is open to anyone who is looking forward to starting afresh or to revive from the pandemic blow."
The countdown to begin the offer has already started and it is valid only till midnight of Sep-20-2020 since they have announced to proceed towards their official launch the next day! If you too do not wish to miss the opportunity, Register today!
This Giveaway delivers One Page Websites entirely for FREE. It will help customers to have their online presence by freely created websites for them. It is a welcome opportunity for the ones who in current circumstances of the worldwide financial crisis are unable to afford good websites in their budget.
Mobile First Canada is excited to unveil the latest benefit for current and new Digital Business Card customers as it's specifically designed to improve the experience and better fulfill the needs of Jobless/Entrepreneurs/Business Men.
When asked to provide greater insight on the subject, MC Mario, Project Manager at Mobile First Canada said, "COVID-19 has hit one and all, equally. Diseases do not discriminate and hence, we too want to help people gain economic independence without any discrimination. This will be our contribution to a global cause. The one-page websites will be free forever if customer register before our Official Launch on 21st September 2020. The Giveaway will start on the 21st of July and we are targeting to give this away to around 10000 people. Moreover, the recipients of this offer will gain from our Mobile-first approach. So, in future they will already have a platform where people are shifting, the MOBILE is FIRST."
Mobile First Canada has made a point of listening to its customers and taking feedback wherever possible. They reportedly do this because any business is viable only through its customers and they strive to make sure that their customers are satisfied and happy with the association.
Mobile First Canada has made it part of its mission to change the lives of as many people as possible positively with their Mobile First Website Builder Technology in the Web Development market. The business is well recognized and known for a truly hard-working company amongst its fans and customers, which MC Mario is immensely proud of, with the business being operational now since 2nd Feb 2020.
Interested individuals or businesses who would like to be among the first to experience the Covid-19 Giveaway with Mobile First Canada are encouraged to visit the Registration Page at http://mobilefirst-covid-19-giveaway.com-web.mobi for full details and to grab Covid-19 Free Digital Business Card by https://www.mobilefirst.ca/ .
COVID 19 GIVEAWAY MOBILEFIRST Landing page video
Release ID: 88969682