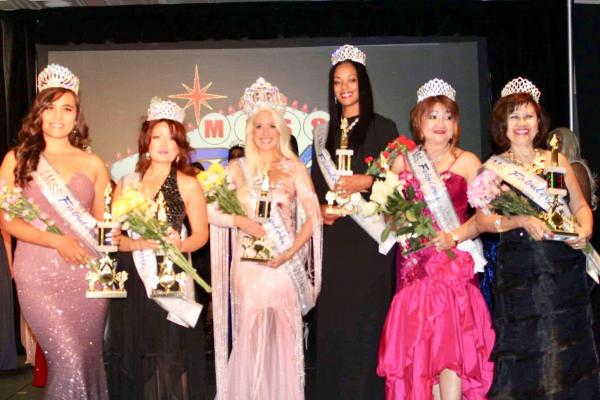 - August 22, 2018 /PressCable/ —
The co-founders of Miss Fabulous Las Vegas Beauty Pageant, Ellen Stokes, and Kristine Stokes proudly crowned the winners of their recent beauty pageant competition. Miss Ellen Stokes named former Las Vegas City Mayor Oscar B. Guzman as "Mr. Fabulous Las Vegas" and the Fab Spa Parties CEO Dunia Antunez received "Miss Fabulous Las Vegas Community Service Award".
The pageant has 6 categories and here is the list of the winners:
1. Miss Fabulous Las Vegas (18-29) – Kendra Daniels is a warm-hearted, hard working woman. She has won "Top 100 Women of the Year" four years in a row by My Vegas Magazine. Kendra is an American vocalist, whose powerful range and versatility helps her to deliver a unique style of New Country Pop to nationwide audiences. Kendra's recent accomplishment of being on "America's Got Talent" with her specialty act, brought her closer to her ultimate goal of becoming a national icon.
2. Miss Fabulous Las Vegas Teen (13-17) – Yiriam Corrales is a 16 year old high school student. Her goal is to inspire young girls like herself to be confident in who they are. Her favorite spots are Hoover Dam, Grand Canyon and Red Rock.
3. Ms. Fabulous Las Vegas Elite (30-39) – Lindsey S. Licari is the President and Founder of Ayden's Army of Angels, and has dedicated her life to Childhood Cancer Advocacy. Lindsey attended University of Nevada at Las Vegas' architect program and has excelled in the community through her advocacy for her son, Ayden Brown, who lost his life to rhabdomyosarcoma last November. Lindsey has given back more than $100,000 to Pediatric Cancer patients and their families since Ayden gained his wings.
4. Ms. Fabulous Las Vegas Elegant (40-49) – Francilla V. Lapena is a fashion wardrobe stylist and style blogger. Francilla strives through Post-Traumatic Stress Disorder (PTSD). "I have been privileged to share about my PTSD and allowing other women to open up about their situations through it. Francilla wants to empower women to talk and to know they are not alone, and to find a safe haven within other women. "Support is such a huge thing for all of us; without it, we struggle and it becomes a tiresome fight in ourselves."
5. Ms. Fabulous Las Vegas Sophisticated (50-59) – Nina Alberto loves cooking and dancing. Her ultimate goal is to help people with disabilities. Her previous titles: Mrs. Asia (1996); Ms. International Philippines (1998); Ms. International (2002); and Ms. Philippines USA (2007).
6. Ms. Fabulous Las Vegas Legend (60+) – Ms. Susan Ordona enjoys smiles, people, singing, ballroom dancing, travel, events, books, social media, Facebook Live, healthy cooking and lifestyle, and food. Susan is a reinvented entrepreneur from a career as a clinical laboratory scientist to being a speaker, four-time No. 1 Amazon international best-selling author, book publishing consultant, a social media marketing strategist.
The pageant had four notable judges namely Dr. Paige Brooks, PhD – A Presidential Scholar honors-graduate from Tulane University. Paige Brooks has enjoyed a career as a professional international print and runway model, SAG/AFTRA actress, spokesperson/host/television presenter, and land company owner/director. She is also championing philanthropic causes in the field of charitable medical advocacy around the globe. The second female judge was Miss Teen US Latina 2017, Litzi Torres. The two male judges were (1) the distinguished celebrity and sports commentator Aaron Phillips, who is also a talk show host of "Aaron's Hours", a public speaker and award-winning businessman; and (2) Harrison Garces, men fashion blogger, Salon Manager and Social Media Manager at NAB Nail Bar.
About Miss Fabulous Las Vegas Beauty Pageant
For the first time in history, Las Vegas celebrated its own Miss Fabulous Las Vegas beauty pageant. This beauty pageant is all about feeling fabulous inside and out. We created the Miss Fabulous Las Vegas Beauty Pageant as a way to encourage women to promote Las Vegas Tourism and Hospitality and to become an ambassador of their community.
"Our mission is to showcase the fabulousness of the people who live and come to Las Vegas for the fun and luxurious experience they can only find in Las Vegas." – Ellen Stokes
The pageant was hosted by Kristine Stokes and Tony Andre-Jansz. RJ Viray, Dean Perry, Harrison Garces and Culture Shock performed at the event. Miss Ellen Stokes is now inviting aspiring fabulous women to apply for Miss Fabulous Las Vegas and Miss Fabulous America 2019.
To learn more about their events go to https://www.fabulouscrowns.com
Release ID: 395311