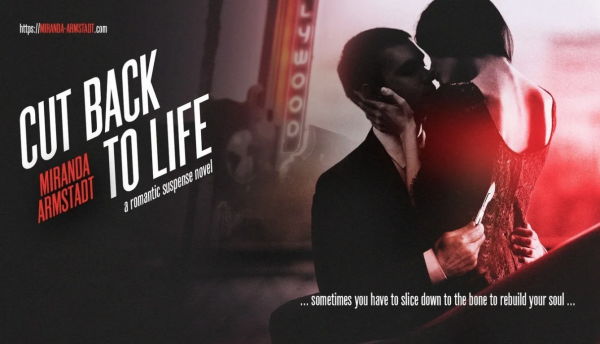 - July 3, 2020 /PressCable/ —
When debut author Miranda Armstadt sat down to write her first-ever novel after years as a news and commercial writer—including time as an actress, presenter and TV news anchor—she had no idea she was busting the romance genre with iconoclastic tropes and themes. But with Cut Back to Life— inspired after the author underwent a grueling spinal fusion procedure that transformed her worldview—she has done just that.
Instead of 20-something protagonists, hers are baby boomers (albeit hot and successful ones). They are wrestling with dark pasts and ethical conundrums that readers will likely find far closer to real life than the typical "bodice-buster" for which the romance genre has become known. Perhaps because of this, a surprising new demographic has been drawn to the novel: men over 40. No one was more astonished than Armstadt at this unfolding, who didn't even try to reach a male readership, assuming they wouldn't touch anything with "romance" in the genre.
"I was stunned as one guy after another—mostly Twitter followers—bought the book and told me they loved it. Apparently, they relate to the way I 'write' men," Armstadt says. And why a baby boomer love story? One with actual passion, not just chaste hand-holding? Armstadt says she believes there's a huge market for this kind of saga right now, and, being a boomer herself, sees that her generation is not going to age the way previous ones have.
Cut Back to Life follows the evolving relationship of A-list aging movie star Anna Porter and her neurosurgeon, Dr. Mark Scofield, who she meets when extreme pain causes her to seek out L.A.'s premier back surgeon. Anna, confronted with the waning of her decades-long career, suddenly finds herself falling in love with the doctor—and Scofield's feelings escalate equally.
Even though he knows it's against professional ethics, Scofield can't help but be mesmerized by Anna's beauty and vitality. Once they cross that boundary, it's not just the doctor's career that hangs in the balance, but their very lives as well, as Anna's former boyfriend and personal trainer Roger Niles has a vendetta and plans to even the score after she dumps him.
Armstadt's novel will resonate with fans of provocative contemporary romance and suspense. Although Cut Back to Life includes some grittier elements, it is ultimately a story of deep love and survival. Readers' feedback of Armstadt's work is testament to how invested she was in developing each character within the book. Most reviewers describe the book as "a fast reading page-turner" and hail her characters as deeply human, complete with flaws and defects.
Miranda Armstadt can be found online at www.miranda-armstadt.com or on Twitter @MArmstadt. Cut Back to Life is available for purchase on Amazon.com. The author is now hard at work on her second novel, CIA Princess, which is loosely based on her father's real-life exploits while with the US State Department in post-WWII Yugoslavia during the Cold War.
Release ID: 88966638