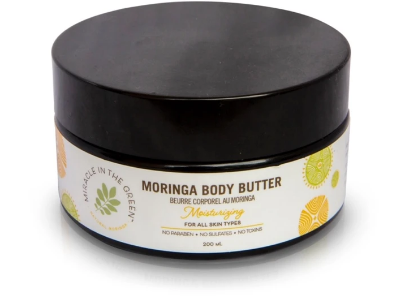 - January 24, 2020 /PressCable/ —
Winter Springs, Florida U.S.A – January 24, 2020 – Wellness and skincare company, Miracle in the Green is expanding its popular line with a selection of beauty care products. Each one is made from thoughtfully curated natural ingredients known to enhance beauty and skin health, but the star ingredient in all of these beauty products is nutrient-rich Moringa.
The Moringa tree, a plant native to tropical and subtropical regions of Asia and Africa, is also known as the Miracle Tree for good reason. Moringa leaf and the oil made from the seeds of the tree are rich in antioxidants and essential nutrients, including vitamin C, iron, calcium, and potassium. With such a potent dose of nutrition in every serving, Moringa has become the latest superfood trend amongst health food lovers. It also becomes one of the most desirable ingredients in skincare and beauty products produced today.
Moringa can enrich the skin with nutrients that may help to slow the aging process, protect against moisture loss, and make skin look radiant. Miracle in the Green has been producing high-quality Moringa-based products for years and is well-versed in the benefits of adding this miracle plant to one's daily life. The company believes that the beauty benefits are just as profound as the health benefits, and is excited to bring the wonders of Moringa to its customers.
The Miracle in the Green beauty line includes anti-aging products such as the Anti-Aging 100% Revitalizing Moringa Oil Moisturizer and Make-Up Remover. This facial oil is made from pure Moringa oil, making it a super-charged moisturizer that may help to diminish skin tissue damage from free radicals.
For those who want to keep skin clean and refreshed with a natural, vegan beauty product, Miracle in the Green has created a cleanser made with Moringa seed oil. Because it can remove excess oil and dirt without irritating the skin, the Hydrating and Brightening Moringa Face Wash is a great option for all skin types, including those with sensitive skin.
For soft, beautiful skin, Miracle in the Green has created a premium natural body butter that users will love putting on their skin every day. Moringa Body Butter is formulated with Moringa seed oil. It can be applied daily to clean skin, helping to create soft, supple skin and to prevent dryness. Made with 100 percent natural ingredients that are gluten-free, cruelty-free, and vegan, this beauty product is safe for all skin types and can be used on everyone from the youngest members of the family to those looking for natural ways to keep the skin glowing and young-looking.
There are no synthetic fragrances or GMO ingredients in any Miracle in the Green beauty products. The facial oil, facial cleanser, and body butter are made with high-quality Moringa oil sourced from USDA Certified Organic Moringa.
For those who love to pamper their skin with natural beauty products, then Miracle in the Green is a gamechanger. These beauty products are packed with flavonoids to protect against cell damage and vitamins and minerals to help the skin age gracefully.
To try any of these 100 percent natural beauty products, or any of the other Moringa wellness products, visit Miracle in the Green.
About Miracle in the Green, Inc.
Miracle in the Green, Inc is an Orlando-based wellness and skincare brand with a mission to make more people aware of the health and beauty benefits of Moringa. The company was founded by entrepreneur Ify Nwobi, who was diagnosed with cancer in her final year of law school. While being treated for cancer, her parents sent her the herb, Moringa Oleifera, from Nigeria, which she credits with helping her to regain her energy, vitality, and health. Nwobi decided to begin Miracle in the Green so that others could benefit from access to the highest quality Moringa powder just as she and her family have.
Contact:
Lindsey Smith
Project Manager | Miracle in The Green
Release ID: 88943984