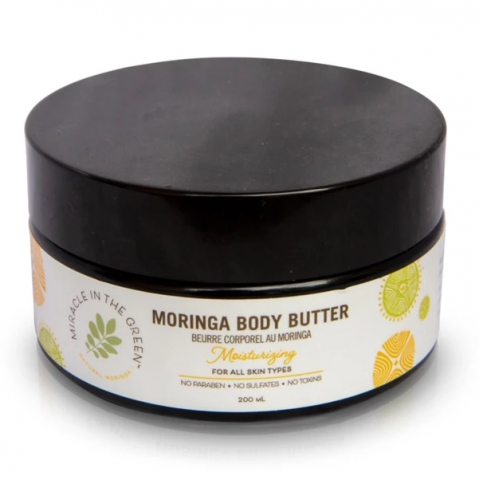 - December 7, 2019 /PressCable/ —
Winter Springs, Florida, U.S.A – December 6, 2019 – Just in time for the dry winter season for most of the northern hemisphere, Miracle in the Green, Inc., an Orlando-based skin care and wellness brand, has launched a new body care product for dry skin care and prevention. Called Moringa Body Butter, this new moisturizing body butter offers consumers a richly hydrating natural product that is safe for delicate skin. What's more exciting for skin care and wellness lovers, Moringa Body Butter contains pure, nutrient-rich Moringa oil.
Moringa oil is a nourishing oil derived from the seeds of the Moringa tree. It's rich in antioxidants, amino acids, and omega-9 fatty acids, which are known to keep the skin healthy and soft. What makes this oil truly useful in skin care products is its behenic acid content. This fatty acid is renowned for its emollient and skin soothing properties. It's often found in high-end beauty products designed to soften the skin and protect against moisture loss.
Not only does Moringa Body Butter contain softening Moringa oil but it's also a cruelty-free, vegan, and 100 percent natural skin care product. There are no synthetic fragrances, parabens, sulfates, or harsh ingredients, making it suitable as a moisturizer for even the youngest members of the family. For consumers who prefer eco-friendly skin care, this body butter will be a welcome addition to their collection of personal care products. It's biodegradable and doesn't contain any GMO ingredients.
Moringa Body Butter is designed to be used as a daily moisturizing product. For best results, apply to clean skin after bathing and before bedtime. Safe for all skin types including those with sensitive skin, users can apply the body butter to soothe dry skin. Used regularly, it may help prevent dry, chapped skin, keeping the skin smooth and comfortable every day during the driest months of the year. Maintaining hydrated skin is also essential for long-term skin health.
For more information about Miracle in the Green Inc. or to order this all-natural body butter or other Moringa-based products, visit: https://miracleinthegreen.com
Contact:
Email: info@miracleinthegreen.com | Phone: (321) 348-7974
Address: 1511 E. State Road 434, Suite 2001,Orlando, FL 32708
Release ID: 88938095