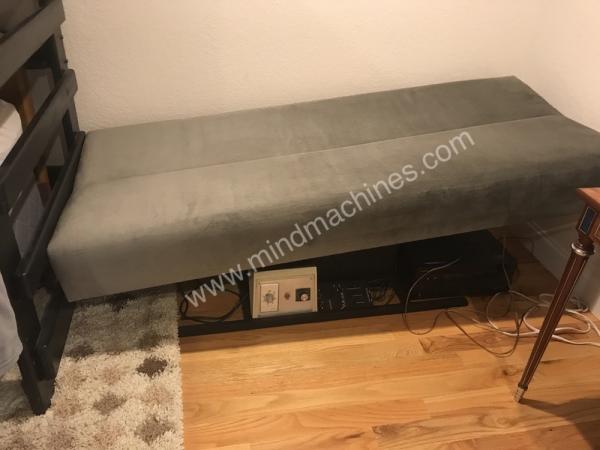 - September 13, 2019 /PressCable/ —
Mindmachines.com is warning clinicians that only one IMS clinical therapy motion and tactile stimulation bed remains available for sale. They state the IMS vibraacoustic bed has been out of production since the 1990's and there will be no additional stock available for sale at any time in the future. They strongly encourage any interested parties to inquire about purchasing it as soon as possible before it is sold to another party.
"This is the absolute last IMS motion tactile stimulation therapy bed with occipital motion available in the entire world. This is the very last possible opportunity for a clinic or power user to own a rare and coveted piece of mind and body therapeutic equipment. This unit was taken from a clinic that is closing, has been thoroughly examined and tested and is in prime condition. This is a one-of-a-kind opportunity to own a revered clinical device that is extremely rare. The IMS has been out of production and unavailable for going on two decades. This is a prime specimen from a clinical research lab where it was used infrequently. I cannon emphasize enough how rare it is to even see one of these, let alone see one that is available for sale. This is an unprecedented opportunity that will never be repeated. Mindmachines.com will be brokering the sale of this legendary piece of mind technology, neurofeedback, biofeedback, tactile motion and vibration therapy designed for use in a clinical setting or personal spa.", says Fred Williams, spokesman for Mindmachines.com.
The IMS vibration and motion was designed by Larry Schultz of Integrated Motion Systems. Production of the product ended in the mid 1990's when Mr. Schultz retired and closed his company, Integrated Motions Systems. Because IMS motion therapy and tactile stimulation beds were produced almost exclusively for clinical settings in limited numbers decades ago, they are considered by experts to be rare. Several clinics in the United States still use IMS therapy on a daily baisis, but none of the devices are available for sale.
MindMachines.com provides light and sound machine information, education and devices. MindMachines.com also own the AVS Journal magazine in order to provide more in depth information and articles about EEG, brainwave technology, binaural beats and other meditation, relaxation and peak performance tools and techniques. For more information about this once in a lifetime opportunity to own a genuine IMS vibroracoustic motion bed visit the mindmachines.com website.
Release ID: 88916439