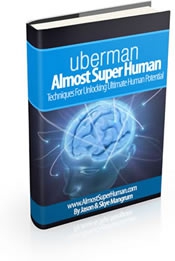 - May 18, 2016 /MarketersMEDIA/ —
A new book has launched that unearths techniques used in secret by some of the most powerful men and women in the world for thousands of years. It elaborates on ways to master the mind and create success every day by unlocking the potential of the brain. Called Uberman, it is a mind altering experience that dives into the latest cutting edge developments in mind science and consciousness technology that anyone can employ right away.
More information can be found on a specially designed Uberman site at: http://almostsuperhuman.com.
The Uberman site explains how the book will be well suited to those who have been fascinated by the power of the mind and how to step beyond the illusion to experience manifestation. It underscores how people have a natural right to create the exact life they want, and the Uberman book will show them how to achieve it, perhaps shocking them, inspiring them, and exploding their mind open with new possibilities they might never have experienced before.
Because of what the book covers, for some people it can be a very intense experience. The Uberman site explains that the book will shatter old belief systems. This means that everything the reader thought was real may turn out to be something different, opening a potential rabbit hole for the reader to dive into and uncover more information.
The site also goes on to list some of the features the book touches on, including how to turn the reader or a friend into an instant lie detector. Other techniques include how to communicate with the subconscious, how to influence another person's strength without touching them, and how to uncover what is blocking the reader's superhuman abilities so that they can focus on getting past it.
Other techniques are uncovered in the book as well, most of which are based around the philosophy of consciousness and energy. The Uberman site elaborates on these in more detail, providing a clear and in-depth focus on the book and how people can use it to better their lives.
Release ID: 115433