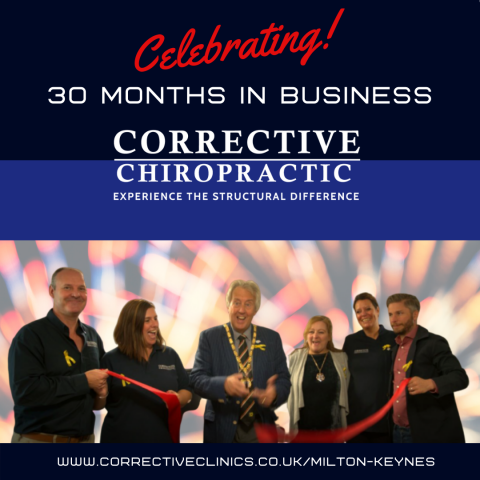 - February 8, 2020 /NewsNetwork/ —
Milton Keynes Chiropractors at Corrective Clinics reflected with great delight on the opening of their Milton Keynes's clinic 30 months ago. During this time, they have become widely known in Milton Keynes and surrounding areas for their highly effective natural chiropractic treatment methods, that ensure measured results. A recent patients survey suggests that 91% of their patients experienced good to excellent improvements, a statistic they're striving to improve upon. From the outset the vision was to provide high level affordable treatment to help eliminate or greatly reduce muscular-skeletal and associated nerve pain. Through the careful application of Corrective Chiropractic adjustments, the root cause of backpain, sciatica, neck pain, and other common muscular-skeletal imbalances are corrected to encourage the body back to a balanced state. https://www.correctiveclinics.co.uk
Their initial chiropractic assessment measures the body's structure carefully to see if it fits within a normal range. This includes posture pictures, structural x-rays (if clinically required), a 3d postural analysis and weight distribution check. The client's medical history is reviewed in conjunction with other orthopaedic tests to determine levels of inflammation around spinal joints as well as mechanical, functional and neurological imbalances. The imbalances are identified when a measurement points outside the normal healthy range. Treatment is then carefully formulated around the evidence collected to realign and re-balance the body using corrective chiropractic adjustments. This promotes nerve flow which improves brain-body communication allowing the body to express better health. Healing of the muscles and joints, overall function, biomechanics, weight distribution along the discs, mobility, range of motion and balance and coordination are stimulated.
https://www.correctiveclinics.co.uk/chiropractic-examination
Co-Founder of Corrective Chiropractic says: "We're on a mission to promote spinal health, healthier posture habits and optimal nerve flow in our local community to improve the quality of the lives of those we come in touch with. We do regular community outreach activities, visit local businesses and provide health talks and training to educate and raise awareness. For patients coming to us for help we identify areas in the body where there is nerve-interference using orthopaedic testing, evidence-based measurements and digital imaging. From there we uncover the root causes and evaluate if safe and effective treatment can be delivered. Each person is unique and presents with different challenges, hence our comprehensive initial chiropractic consultation and assessment process. We find that our systematic approach helps us understand the specific imbalances within the wider context of each person's mind-body to formulate individual care plans that are highly effective. We have some patients who have healed from decades of chronic backpain after receiving chiropractic care from our Milton Keynes Doctors of Chiropractic"
https://www.correctiveclinics.co.uk/milton-keynes
As a bright light in their local community Corrective Chiropractors work tirelessly to deliver structural improvements for their patients to restore and improve function leading to better healthier lives. As one of their patients wrote: "I'd highly recommend Corrective Chiropractic in Wolverton. Within a month my long-term back issue was corrected. I experienced a fantastic, friendly and honest level of care on every visit. Truly grateful for the great service I received. Their expertise is second to none! Great value for money."
The Milton Keynes Chiropractors at Corrective Clinics reflect on the 30 months just completed and the positive impact made so far. They are doubling their efforts to increase their reach and create a structural difference in the minds and bodies of those they come in touch with. The alignment process through the carefully delivered chiropractic adjustments promotes improved nerve flow and function of the joints and muscles. Co-Founder and seminary Dr. Lawrence also added "We want to truly Improve the lives of our clients by eliminating pain and restoring function. At Corrective Chiropractic our clients have the opportunity to receive safe, effective and affordable care. We want clients to feel they're getting the highest level of care and value we're capable of delivering. We strive to continuously improve so our patients have confidence that they've made the right choice in coming to us. Whilst individual results can vary greatly, subject to life-style factors, chronicity and sometimes anatomical differences between patients, we continue to see a high success rate across both clinics."
Corrective Chiropractic has been in business for 30 months. Since Day 1 it has always aimed to be a trusted team of Milton Keynes Chiropractors, known for delivering measured results and helping clients experience a structural difference.
Corrective Chiropractic treatment always starts by first booking in for an initial assessment which can be arranged by ringing 01908 774058 or in person at our Milton Keynes or Aylesbury Clinic. To find out more, it's possible to visit https://www.correctiveclinics.co.uk/blog
Release ID: 88945569