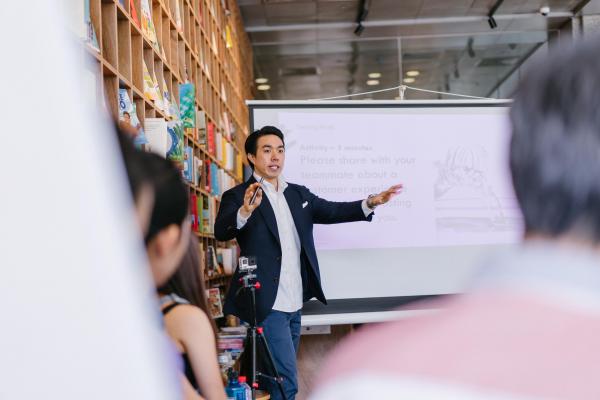 - May 11, 2021 /NewsNetwork/ —
Sandler Training, sales education and leadership training specialists based in San Ramon, CA, have launched No Guts No Gain, a program designed to facilitate subscribers' personal growth and enable professional development through motivational and productivity techniques in Milpitas and San Ramon, CA.
More details can be found here https://www.borovitz.sandler.com/sandler-corporate-story
The new course expands Sandler Training's comprehensive educational resources and innovative training methods to provide subscribers with a route map for behavioral change and blending life skills with professional goals.
While modern day businesses are now obligated to offer ongoing training and development for employees, the sheer scale of available content in the digital era is both daunting and difficult to navigate. Personal growth facilitates behavioral change which, in a professional setting, inspires a culture of harmony amongst staff and increases motivation and productivity.
No Guts No Gain contains guidance on resisting procrastination, handling pressure, motivational techniques, overcoming the fear of failure and distinguishing between assertiveness and aggression. The course encourages self-awareness and reflection to better understand which qualities are helpful and which are a hinderance to growth both personally and professionally.
The course details Sandler Training's Building Blocks Of Success while other modules cover barriers to success and the anatomy of failure and risk. In addition subscribers benefit from analysis of the psychology of power dynamics within relationships, how to read people and situations and ways to become more assertive in the pursuit of goals, based on a foundation of mutual respect.
Sandler training courses can be accessed online on demand, in person or through a blended learning model.
Founded in 1967 by David Sandler, the organization has grown to become one of the leading sales education and leadership development companies in the U.S and beyond. Sandler Training SF Bay Area is led by Jeff Borovitz, an award winning sales professional and trainer who has helped thousands of clients to reach their full personal and business potential.
A satisfied subscriber says, "Not only is the course informative and engaging but it's also challenging and forces you to confront your own weaknesses."
With the launch of No Guts No Gain, Sandler Training continue to make innovative sales and leadership education accessible to everyone. For more information please visit https://www.borovitz.sandler.com/sandler-corporate-story
Release ID: 89013406