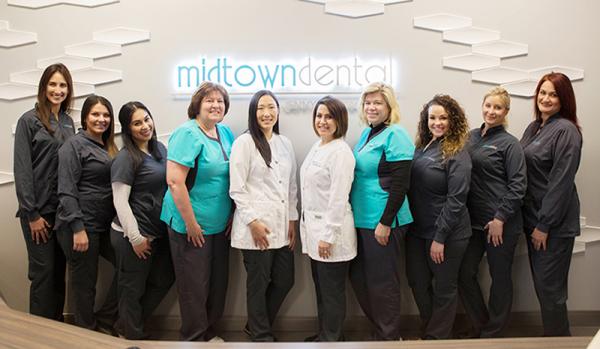 - August 24, 2018 /PressCable/ —
Sacramento, CA – Midtown Dental, a dental office in Midtown Sacramento, is partnering with WEAVE, the primary provider of crisis intervention services for survivors of domestic violence and sexual assault in Sacramento County, to make a positive impact and provide dental health support to those in need. Dr. Jenny Apekian is a top-rated dentist who believes it's very important to give back to community, especially those who need dental health services.
One of the primary missions of Midtown Dental is to give top quality dental care to all patients who walk into its practice. With their state-of-the-art technology for Dental Implants, Invisalign, and other services, all patients have access to some of the most outstanding dental care they can receive in the County of Sacramento. Dr. Apekian is applying the same care to those who are in need by partnering with WEAVE.
In addition to serving her patients, Dr. Apekian is very involved in the community to volunteer her services. She & her office staff volunteer to teach members of the community who don't have access to dental care, how to best maintain their oral health. This particular event in which Midtown Dental is partnering with WEAVE, gives survivors a reason to smile. When asked about what this event means to Midtown Dental, Dr. Apekian said:
"It's an honor to be able to give back and serve the community that makes this city so great. These women are survivors and deserve to have access to the resources they need in order to get back on their feet. All of our patients are family to us, and we do the best job we can to make their oral health the number one priority when they walk in our office." – Jenny Apekian, D.D.S.
Midtown Dental is proud to partner with WEAVE, and hopes to partner with the organization again to provide another wonderful opportunity for those in need. WEAVE is an organization with the utmost priority in helping people for the great good – their organization appeals to people of all genders, ages, who need help. The city of Sacramento is lucky to have an organization and many others pushing initiatives for those in need. Midtown Dental wants to have the same positive, direct impact on members living in this community.
This event is just a small glimpse in what Midtown Dental envisions in making their impact felt in the Sacramento Community. Dr. Apekian is proud to have such a wonderful team to work with and continually strives to improve in the future. For more information please visit our website at: https://www.midtowndentalsacramento.com/news-blog/635/dr-jenny-apekian-sponsors-womens-dental-service-day/.
# # #
As a local business owner in Sacramento, CA, Dr. Jenny Apekian is a Sacramento Dentist who wants to be a part of the change that Sacramento needs for a better future. She's incredibly proud of her entire team's dedication and care for patients, which has been the driving force behind Midtown Dental's ongoing success.
Release ID: 397252