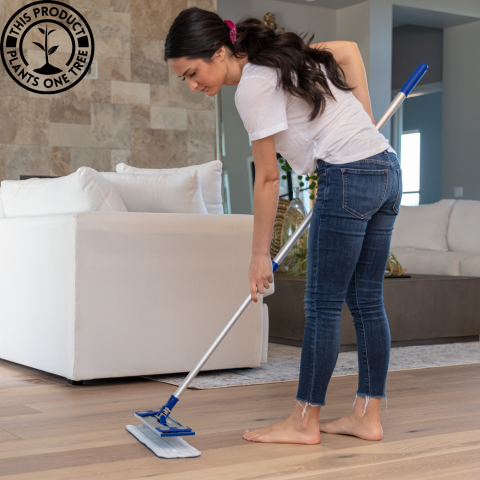 - December 12, 2020 /PressCable/ —
The California Department of Public Health conducted a study to test which mopping method if any, posed risk to inhalation exposure from the fumes of chemicals used while mopping. The study found that the bucket and string mop method appeared to result in higher air contaminant concentrations (therefore risk of higher airborne exposure) than the flat microfiber mop head method. The study also showed that the exposures can be significant for bystander workers and other occupants present after cleaning as well as for those who conduct cleaning.
Even though the above experiment shows that the microfiber mopping method is less prone to higher concentrations of air contaminants, one can take it a step further to make the chore even safer by taking advantage of one of microfiber's very unique abilities, one of which is the ability to clean and remove germs and bacteria without chemicals. The secret to microfiber's ability to remove germs is in the actual makeup of the material. The hint is in its name. The actual fibers are so small (micro) that they are roughly 1/16 the thickness of human hair. That is very small.
It's that small size that enables them to be able to catch onto germs and dust like no other cleaning cloth can. Brian from Temples Pride, the creator of the Dredge microfiber mop explains, "Think of it like going fishing and having 1000 hooks in the water compared to just having 10, you are going to catch a lot more fish with 1000 hooks, that's similar to how microfiber works."
Temples Pride was founded in 2015 with a mission to provide an environmentally friendly & effective microfiber floor mop. To further support their mission, they are also dedicated to reducing their environmental impact by helping to protect critical forest habitat. For every mop that they sell, they plant 1 tree.
More information about Temples Pride and the Dredge microfiber mop is available on their website.
https://www.amazon.com/Professional-Microfiber-Resistant-revolutionize-Experience/dp/B01AZLM64G
Release ID: 88988763