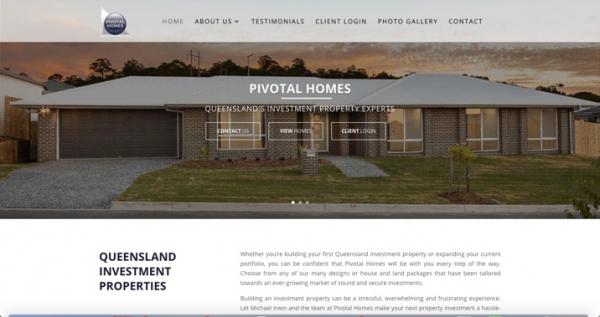 - May 11, 2017 /PressCable/ —
Michael Irwin, Pivotal Homes' Managing Director has just announced the launch of a brand new website for his Queensland investment property company. The site has been designed to help local and interstate investors to capitalise on the growing trend of investing in rental properties to build personal wealth.
Interested readers can learn more about Michael Irwin and Pivotal Homes by clicking here: http://pivotalhomes.com.au/about-michael-irwin/
As prices of homes in Sydney continue to remain out of reach for most residents who are not yet in the market, investment properties in Queensland offer a lower-priced alternative for would-be investors to get started – or to grow their existing profile.
Michael Irwin has been running Pivotal Homes in Surfers Paradise for over 10 years. In a recent interview with Michael for this article, he provided insight as to why he founded Pivotal Homes and what he hopes to achieve with the new website. Like many successful entrepreneurs, Irwin was inspired by several industry leaders. Michael quoted three Australian land owners and property developers as being the main inspiration for his own journey: James Tyson (1819-1898), Sir Sidney Kidman (1857-1935) and Arthur Earle (1913-1998). Each of these business owners created significant wealth for themselves and others in their lifetime, each leaving their own mark on the Australian property landscape.
Michael Irwin was quoted as saying – "All of them become financially secure by investing in land. They then shared their expertise with others so that they could become financially secure as well. I'm striving to do the same thing with Pivotal Homes. I may not end up being as well-known as those famous pioneers, but it feels great to be able to see my customers' wealth growing… in part due to help from my team & I."
With his newly launched website, Michael hopes to be able to reach a wider group of property investors to help them with their investment property questions. When asked about the concern some investors may have about investing in the Queensland property market, Michael replied that his long list of customer testimonials should be evidence that Pivotal Homes is different to other companies in his industry.
What separates Pivotal Homes from the competition is their inclusion of premium finishes on all property builds, and the investor's ability to track the progress of their development via regular photo updates accessible via the new website.
"I look forward to hearing the response from our existing clients and also the investment community", Michael said. He went on to say, "Our old website didn't work well for investors visiting us on mobile devices. With the new website design, we're offering a much better experience for mobile, tablet and desktop users."
Readers interested in learning more about Queensland investment properties by Pivotal Homes can visit the company website at http://pivotalhomes.com.au or call the office directly on (07) 5504 5047.
Release ID: 198458