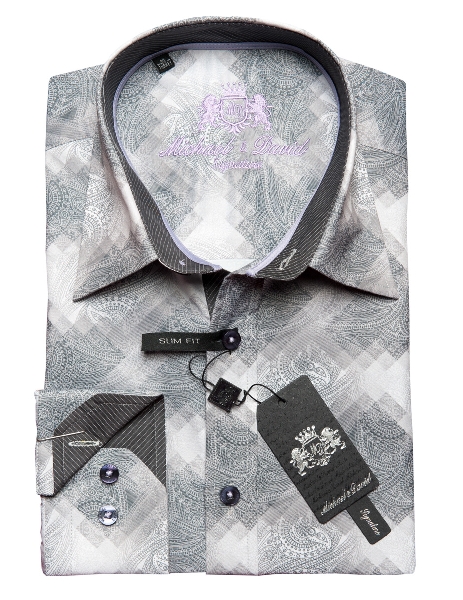 - November 21, 2014 /PressCable/ —
LOS ANGELES, CA November 21, 2014  When it comes to making sure that men look their stylish and elegant best, Michael & David really give a shirt. The up-and-coming men's design company has made it their mission to provide men with the very best quality in men's casual long sleeve, button-down dress shirts. 
Featuring European styling, fine tailoring and top quality materials, the Michael & David brand is sending a very clear message to American men that says they really give a shirt about men's fashion sensibility. 
Based in Los Angeles, the men's fashion design company focuses on high-end men's designer shirts with European flair but they're not your standard men's casual shirts. Each Michael & David shirt is very carefully designed to make a bold and elegant fashion statement. Created from the finest Turkish cotton, which is renowned worldwide for its soft, luxurious feel and drape, the Michael & David men's fashion shirt line features the slim fit that makes European tailoring so flattering and appealing. The shirts are available in six sizes to ensure that every man can enjoy the comfortable, flattering fit of a Michael & David shirt. 
The brand features exclusive designs created for men who appreciate understated elegance. Worn with styled jeans or casual pants, Michael & David shirts present somewhat of a polished casual appearance. Paired with a sport coat, blazer or jacket, they'll turn heads at the office or at events calling for slightly dressier attire, making them a versatile option for holiday parties and holiday gift giving.
Quality is the hallmark of the Michael & David men's shirt lines. Design details include double-stitched button plackets, precision stitching and fashion-forward lined shirt cuffs. The shirts feature limited run patterns, which run the gamut from bold checks and prints to subtle tone-on-tone woven cotton jacquard. The fine construction details include sewn-in collar stays to maintain the collar shape, coordinated buttons and contrasted top-stitching on some styles. 
The company's goal is to make premium quality, high-fashion men's shirts in fashionable colors and patterns available to customers all across the USA, and at prices that are affordable for nearly every wallet. To that end, Michael & David shirts are available at fine retailers across the U.S., Canada and Mexico, as well as in selected cities internationally. 
Michael & David men's shirts are also readily available on a regular basis and at special discounted prices through Amazon's Prime service, with free two-day shipping just in time for all those great holiday parties right around the corner. Men are encouraged to "give a shirt" for how they look this holiday season.
Release ID: 68861