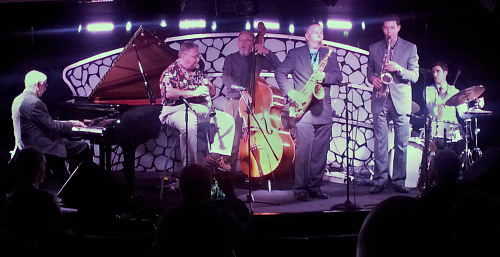 - July 27, 2016 /NewsNetwork/ —
A premier luxury jazz cruise through the Caribbean entitled JazzFest at Sea with exclusive and unique solo and group performances by internationally acclaimed jazz artists along with jam sessions with pros for the cruise guests, has been announced.
More information is available at http://JazzFestatSea.com.
JazzFest at Sea is a 10-day luxury 1920s-1940s jazz themed cruise, departing from Miami to the Southern Caribbean on the popular MSC Divina cruise ship, in December 6, 2016, with stops in Aruba, Curacao, Turks and Caicos, Bahamas or Colombia, and tailored to provide a unique experience for fans of traditional or classic jazz.
The luxury jazz cruise will include exclusive, private solo and group performances every evening in an intimate jazz club atmosphere limited to 250 guests along with afternoon sessions on days at sea by some of the most acclaimed artists in the world, including Emmy and British Academy Award winning composer, arranger and saxophonist Harry Allen or John Altman, Allan Vaché, Duke Heitger, Russ Phillips, Paolo Aldrighi, Stephanie Trick, Bob Leary, and more.
In addition, the cruise guests are invited to bring their instruments to participate in multiple jam sessions with other guests and the professionals in the JazzFest Jammers program led by the talented John Skillman, Mike Evans and Jim Gover throughout the premier jazz cruise.
More information on the jazz cruise, its itinerary, the performers and accommodations or pricing along with details on how to book a place, or the complimentary upgrade offers from an oceanview stateroom to a balcony stateroom available through July 31st, and more, can be consulted on the website link provided above or at 1-800-654-8090.
Ken Muskat, the executive vice president of MSC Cruises, explains that "JazzFest at Sea is a unique cruise experience that brings together a group of like-minded people to experience amazing jazz performances, while also getting to enjoy a 10-night cruise vacation. We're thrilled to be able to host this group onboard MSC Divina for the seventh year in a row and watch as the group continues to grow in popularity and receive extremely positive feedback."
The internationally acclaimed clarinetist Allan Vache adds that "we get the very best jazz musicians to participate and I'm proud to have had a part in creating the great music we have on this jazz cruise every year."
Release ID: 125221