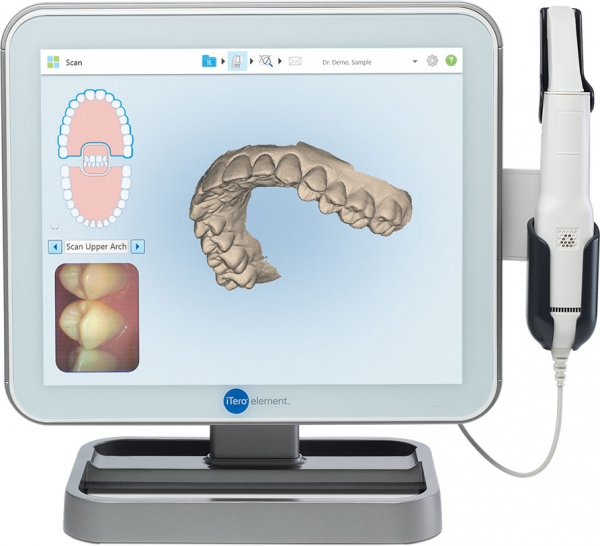 - July 18, 2016 /PressCable/ —
In dentistry, just like in medical care many of the tools still being used today date back hundreds of years. One perfect example of this is the archaic use of "dental impressions." Since the eighteen hundreds dental impressions have been used to create a negative imprint of hard (teeth) and soft tissues (gums) from which a positive reproduction (or cast) can be produced, this is performed using a container called a tray designed to fit roughly over the dental arch.
While still in use today, dental impressions can be highly inaccurate especially when it comes to orthodontic treatment. High accuracy dental digital scanners are now available making the use of dental impressions with trays unnecessary in most cases. iTero is an industry leader in digital scan technology and have created an amazing device that is changing the orthodontic industry.
In just a short period of time the iTero, Intraoral Scanner has become synonymous with high precision scanning technology for dental and orthodontic treatment. iTero's Invisalign Certified Connectivity offers orthodontic specialists direct file upload to Invisalign's lab for a more efficient workflow as well as ClinCheck setups time that are as much as 50% faster! (ClinCheck is a personalized short animation that shows the Invisalign process).
Digital scans with the iTero, Intraoral Scanner also offer 10X fewer rejections, 7X fewer fit issues, and an overall better patient experience without uncomfortable impressions.
Miami Invisalign specialist Dr. Carmen Briceño Crespi at Lakes Orthodontist experienced the capabilities of the iTero, Intraoral Scanner first hand and decided on the spot that this was something she wanted to offer to her patients.
This past December, Lakes Orthodontics received their new and long awaited iTero Element Intraoral Scanner. This revolutionary device has proven to be substantially superior to the impression method allowing Lakes Orthodontics to offer faster, better fitting braces and Invisalign alike.
Dr. Briceño Crespi is an award winning board certified Miami orthodontist with a Bachelor's in Science from the University of Miami where she graduated Suma Cum Laude. She also has a Doctorate of Medical Dentistry from the University of Florida and orthodontic specialty training at TAMHSC – Baylor College of Dentistry, where she earned a Master's in Oral Biology. Her thesis on Micro-Miniscrew Implants, won the Milo Hellman Award, a prestigious research award from the American Association of Orthodontists, which recognizes the most meritorious research paper submitted by a resident in a graduate orthodontics program throughout North America.
Release ID: 123837