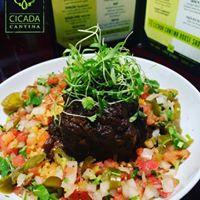 - September 15, 2020 /NewsNetwork/ —
This makes the third Mexican restaurant to open in the last three years for partners Spencer Marcki, Alexis Marcki, and Michelle Hill.
Big things are happening at Cicada Cantina. They have taken a progressive attitude to grow in the midst of Covid-19 and have their sights to expand more in the future. With their aggressive marketing campaign, always improving on their menu and how to enhance the customer experience it's going to be positioned to become a serious contender in the Mexican restaurant vertical.
Individuals residing in the greater Sacramento area or traveling on highway 99 and they get within range of our restaurant when they Google search Mexican restaurants near me, Mexican food near me, or the best Mexican food we want them to see us on the search results and come experience our new safe distancing eatery said Spencer Marcki. With concerns about Covid Cicada staff has been trained and updated with the latest California state Covid-19 regulations for restaurants this includes, proper distancing, hand sanitizing, face masks, wiping down surfaces while wearing proper PPE's.
Spencer went on the say Cicada Cantina is a modern twist to delicious flavors of traditional Mexican culinary staples and while America continues to grow its love affair with Mexican food it is our mission to experiment and evolve traditional plates with unique, healthier, and flavorful ingredients. We do not skip on using the finest herbs and seasonings to create the best foodie experience possible for our customers.
Cicada Cantina Elk Grove is nestled in the heart of Elk Grove at 9105 W. Stockton Blvd just off HWY 99 and Laguna Blvd. Cicada Cantina offers a great Happy Hour menu with delicious Tapas, Margaritas and a Pooch menu for those that have furry family members to enjoy on the patios. Restaurants should be adaptive in these changing times in understanding individual needs like being close to their furry family member Cicada has done this. This Mexican restaurant seems to know how close people are with their dogs so why not make it where customers can bring them in and enjoy the pooch menu. People for the most part understand the rules when you bring in your pooch here to Cicada and that is the dog must be on a leash and watched at all times.
Cicada Cantina Mexican Restaurant
Release ID: 88976827