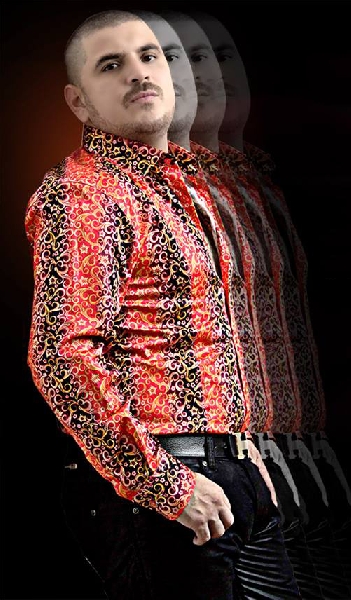 - January 21, 2015 /PressCable/ —
Los Angeles, CA, January 20, 2015  El Komander is best known for his controversial song lyrics and ballads detailing life among Mexico's drug lords, but there's nothing controversial about his sense of fashion. His latest publicity poster features the popular Mexicali singer making a fashion statement with one of the bolder, orange colored Michael & David men's designer shirts. In fact, the singer has often taken the stage in one of a whole wardrobe of stylish shirts from the Michael & David men's clothing design line. 
Born Alfredo Rios, "El Komander" took the music world by surprise with his flamboyant style that marries traditional Mexican ballad forms, including cancion, nuovocancion, banda and mariachi with poignant lyrics in the narcocorrido tradition. 
His 2013 album Vivo Desde Zapopan charted on two different Billboard charts, and two 2014 singles, Soy de Rancho and Por Favor No Cuelges, also charted on two separate Billboard charts, including top 10 finishes on Hot Latin Songs and Latin Regional Mexican Airplay charts. Por Favor No Cuelges also charted in 2013. 
NPR has referred to El Komander as "the Jay Z of Mexican drug balladeers" a title that has made him a target of government fines and repression, but El Komander thinks of himself as a storyteller, recounting the stories of his people, a tradition that extends back over many generations. 
Considering his flamboyant personal style, it's not surprising that El Komander chooses some of the boldest, and brightest colors and patterns from Michael and David's men's shirt design line. The Michael and David mens clothing designers specializes in stylish mens' shirts distinguished by exquisite attention to detail and a fashionable American slim cut fit designed to flatter a man's shape. 
Unlike typical American-made shirts, Michael and David shirts are cut to fit the body more closely, making them both more comfortable and more flattering on nearly any man. The slim fit looks great worn loose over slacks and jeans, but is equally at home worn under a sport jacket or sweater. Details on some styles and pattens include things like top stitched seams and contrasting collars and cuff linings which can appeal to those men who especially want to make a definitive fashion statement. 
About Michael and David Menswear:Michael and David Menswear is a Los Angeles-based men's design house that specializes in high-end men's apparel. Their signature line of men's fashion shirts is made of some of the finest Turkish cotton, known for its comfort, luxury and durability. Michael and David men's shirts are available at a growing list of fine men's stores throughout North and South America, as well as in select cities overseas. They are also available online in a limited promotion through Amazon Prime. Retailers interested in carrying the line in their own stores can contact Matthew Hesser thru the website of: http://mensdesignerfashionshirts.com
Release ID: 72463