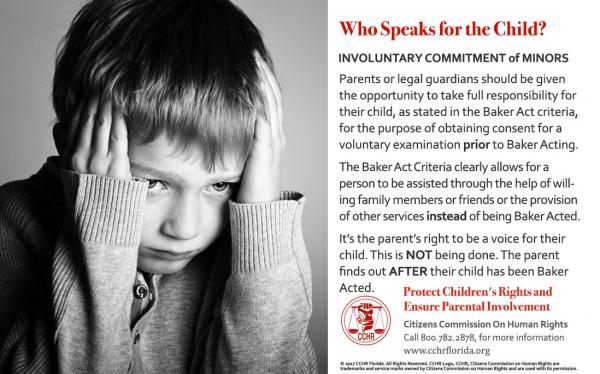 - May 17, 2018 /PressCable/ —
Abusive use of the mental health law is a violation of human and parental rights according to a non-profit watchdog group that often fields calls from frustrated parents whose children have been Baker Acted without their knowledge.
Sandy Liebl of Tampa recently saw her 10-year old autistic son taken from school in handcuffs, as she reported to ABC Action News. Kathy Lovejoy found it "very traumatizing" when her grandson was taken from school, handcuffed and transported to a mental health facility two times. Sande Butler's autistic 7-year-old son was also taken from school involuntarily. "He's traumatized and afraid of everyone," she said. [1]
Over the last 5 years, the number of involuntary examinations on children has increased by 20% from just under 27,000 to almost 33,000 last year, as reported by WPTV in collaboration with the Baker Act Reporting Center and earlier this year, Miami-Dade schools had to revise its policies on the Baker Act after a video of one 7-year-old being removed from school in handcuffs went viral. [2]
"Parental rights in Florida and the rights of the child are completely kicked to the curb under the Baker Act," said Diane Stein President of the Florida chapter of the Citizen Commission on Human Rights (CCHR). "The majority of parents are willing and able to help their child yet they are not being brought into the process despite refusal of voluntary examination being one of the criteria that must be met in order to initiate a Baker Act," Stein said.
But the rights of parents and children are not the only troubling aspect of the Baker Act, Ayana Lange reported recently "The Baker Act left me — an easygoing, fortunate person with respect for authority — angry at the system and the powers-that-be that make decisions". Lange was Baker Acted while voluntarily seeking help and then once the psychiatrist at the facility where she was being detained switched her to a voluntary patient, just 12 hours after she was admitted, staff told her that she would most likely end up in court if she tried to leave without authorization from hospital staff. [4]
According to CCHR, this poses the question, if the Baker Act left Lange angry at the powers that be, what effect is this traumatic experience having on children, some as young as two years of age, who are being forcibly taken into custody.
Ms. Carmen Miller, former Assistant Public Defender in the Thirteenth Circuit in Tampa, now specializes in involuntarily commitment cases. "Many parents are not aware that their child can be taken out of school and Baker Acted, without their knowledge or consent, she warned. "People should protect their rights, particularly the elderly and children."
For more information on parental rights under the Baker Act, to file a complaint on the abusive use of the Baker Act law or to find out when the next Baker Act Rights Workshop is being held, please call CCHR Florida at 1-800-782-2878.
About CCHR: Initially established by the Church of Scientology and renowned psychiatrist Dr. Thomas Szasz in 1969, CCHR's mission is to eradicate abuses committed under the guise of mental health and enact patient and consumer protections. It was L. Ron Hubbard, the founder of Scientology, who brought the terror of psychiatric imprisonment to the notice of the world. In March 1969, he said, "Thousands and thousands are seized without process of law, every week, over the 'free world' tortured, castrated, killed. All in the name of 'mental health.'" For more information visit, www.cchrflorida.org
Sources:
[1] https://www.wptv.com/longform/children-in-crisis-floridas-baker-acted-kids
[2] http://www.miamiherald.com/news/local/education/article197958454.html
[3] http://www.jacksonville.com/opinion/editorials/2015-11-06/story/floridas-baker-act-overused-inefficient-and-inadequate
[4] http://www.tampabay.com/opinion/perspective/Perspective-I-was-Baker-Acted-and-I-don-t-think-it-would-calm-down-would-be-shooters_165930301
Release ID: 346180