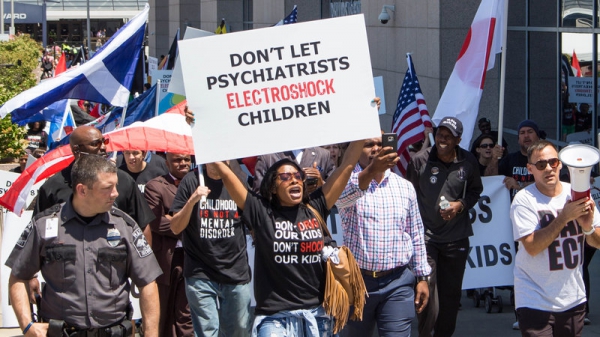 - September 27, 2017 /PressCable/ —
The Citizens Commission on Human Rights (CCHR) of Florida, a non-profit mental health watchdog that exposes human rights violations and is dedicated to the protection of children, has joined CCHR International in asking Dr. Stephen Ostroff, M.D., Acting Commissioner of the Food and Drug Administration (FDA), to ban the use of the electroshock device on children, the elderly and vulnerable patients.
Despite being in direct contradiction to the World Health Organization's Resource Book on Mental Health, Human Rights and Legislation, which states, "There are no indications for the use of ECT on minors, and hence this should be prohibited through legislation", state Medicaid records report that children aged five and younger are being subjected to electroshock in the U.S. and even more disturbing is that the American Psychiatric Association is currently lobbying the FDA to widen their use of electroshock on children, stating in their letter to the FDA that having ECT available is "especially meaningful in children and adolescents…."
"ECT is an unnecessary treatment, especially to the developing brain of young children, and this is why CCHR is calling for a ban on its use in Florida and the rest of the United States," said Diane Stein, President CCHR Florida.
While several states, California, Colorado, Tennessee and Texas, have already banned the use of ECT on those 0-12 and 0-16 the brutal use of ECT is still allowed on children across the rest of the United States. CCHR is asking concerned citizens to sign a petition calling for a ban on the use of ECT – Petition to Ban ECT. For more information on electroconvulsive therapy or to report harmful effects from the administration of ECT please fill out this form or call 800-782-2878.
About CCHR: Initially established by the Church of Scientology and renowned psychiatrist Dr. Thomas Szasz in 1969, CCHR's mission is to eradicate abuses committed under the guise of mental health and enact patient and consumer protections. It was L. Ron Hubbard, the founder of Scientology, who brought the terror of psychiatric imprisonment to the notice of the world. In March 1969, he said, "Thousands and thousands are seized without process of law, every week, over the 'free world' tortured, castrated, killed. All in the name of 'mental health.'" For more information visit, www.cchrflorida.org
[1] Ban Electroshock (ECT) Device Being Used on Children, the Elderly and Vulnerable Patients change.org/p/ban-electroshock-ect-device-being-used-on-children-the-elderly-and-vulnerable-patients
[2] Neurological Devices Panel, Center for Devices and Radiological Health Medical Devices Advisory Committee, Food and Drug Administration, pp 148-149, 27 Jan. 2011, fda.gov/downloads/AdvisoryCommittees/CommitteesMeetingMaterials/MedicalDevicesAdvisoryCommittee/neurologicalDevicesPanel/UCM247594.pdf.%20Accessed%20December%20 "Electroconvulsive Therapy (ECT) Devices for Class II Intended Uses," Draft Guidance for Industry, Clinicians and Food and Drug Administration Staff, 29 Dec. 2015, fda.gov/downloads/MedicalDevices/%E2%80%A6/UCM478942.pdf
Release ID: 243694