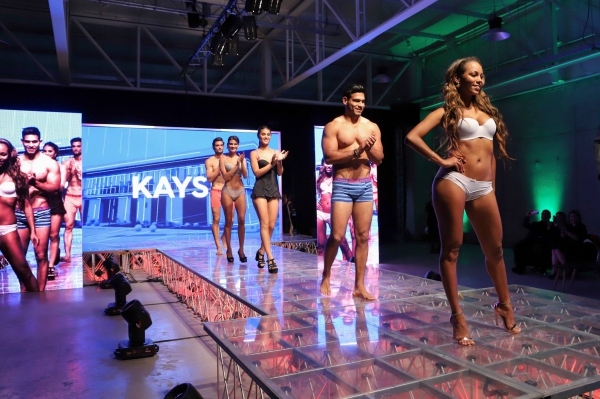 - October 17, 2017 /PressCable/ —
Earlier this month, the international firm Kayser inaugurated a new logistics center that includes an investment of USD $ 8.5 million: Kayser decides to enter the business of selling socks, after the bankruptcy of Moletto Monday.
With the addition of this new business unit, the company seeks to increase its revenues, which they estimate will reach USD $38 million in Chile this year. In addition, the company will enter India Canada, France through the online format and plans to open stores in Canada.
The inauguration of its new logistics center, the Chilean company specialized in the design, manufacturing and sales of lingerie, Kayser, has several projects in mind.
This was announced by Jaime Nazal, managing partner of the company, who commented that the company decided to enter the business of selling socks, after the market was a vacuum after the collapse of Moletto.
"Moletto unfortunately broke, and Kayser realized that there was a space there in the market and now Kayser decided to incorporate into our business an impressive battery of socks, with more than 60 different models, and Kayser already have important orders," said Jaime Nazal.
With the addition of this new business unit, the company seeks to significantly increase its revenues, which estimate that this year will reach USD $38 million in Chile. In Peru, where they also have their own operations, the firm has 44 stores and plans to finish 2017 with sales around USD $18 million and with a growth rate of 30%.
Today, Kayser has trademark rights in 130 countries and commercial presence in 44 nations, E-commerce and international expansion.
Kayser International Representative at Kayser Intimates and Sleepwear, was also quoted when discussing another big win. "One of the high points of Kayser Intimates and Sleepwear's history so far was having been introduced to Randy Aziz, the CEO of Creations Cindy Ann, a Montreal based Intimate and apparel company who is now the Canadian distributor. Immediately, Randy started writing orders with Canadian retailers. Within one year contacts have been signed in the Middle East, USA and Canada with distributors. The opportunity for any smart business man is to partner with Kayser is present.
Another focus of the company is the international expansion that is contemplated for the next years. Jorge Abugattas, International Manager of Kayser, said that today "the focus of the company is Latin America, including Mexico and the Caribbean, Middle East and Australia, and large markets such as the United States and Canada."
Kayser International representative, Sherwin Ace Ross, is on an unbridled rampage to get the word out to intimate and sleepwear entrepreneurs around the world of this outstanding opportunity to become a Kayser exclusive partner / distributor representing your country." Kayser provides the distribution partner with everything from amazing quality apparel, first class marketing tools including video commercials, social media content and guidance for Facebook, Instagram, Twitter, Amazon, floor plans, and fixtures. Kayser has it's sites set on Europe, Cuba, and Pakistan after closing the USA and Canada. For the coming year, he said, Kayser is contemplating the opening of stores in Kazakhstan, Dominican Republic, Lebanon, Jordan, United States, Israel, Nicaragua, among others.
At their Hong Kong office and where they also manage part of their international presence, they estimate to reach $ 12 million in revenue.
According to Kayser's commercial manager, Ignacio Nazal, the USD $ 8.5 million investment made in his new logistics center – which has more than 17 thousand square meters that consider offices, showrooms, collection and distribution centers, casino, green areas and multipurpose court – is directly related to the intention of the firm to position itself strongly in the online sales business.
"The idea is to prepare for what is coming, the potential growth with Kayser's own stores, with the online sales to promote, Kayser understands how important it is and part of this center is to be able to prepare and dispatch as appropriate and deliver a quality service," said Ignacio Nazal.
In this same line, the general manager of the firm, Mitri Rischmaui, said that "the bet is that in the next three years online sales will be 10% of our total sales."
Regarding the company's expansion, both locally and internationally, Jaime Nazal anticipated that the 68 open stores in Chile will be joined by five more in Coquimbo, Punta Arenas, Valparaíso, Arica and a new location in the Costanera Center, which will be located at the new level that will be created with the expansion of the shopping center. Recently, they also opened a shop in the new Mallplaza Los Dominicos.
Similarly, the managing partner commented that "Kayser is entering for the first time in the outlet format, with Easton in Santiago and in Temuco."
Also, the company will enter India through the e-commerce format and study to be able to open stores in that market.
INTERNATIONAL PRESENCE Kayser has trademark rights in 130 countries and commercial presence in 44 nations. In Peru, the company has 44 stores and plans to finish this year with sales around USD $38 million.
"Kayser the brand of prestige and tradition internationally known for design, quality, value, and service."
Founded 1908 in the United States Kayser is the number one intimate, sleepwear family brand in Chile.
Kayser has 352 branches in 44 countries around the world and over two thousand ports of sale and now in the middle east.
Become an exclusive agent today!
For any smart owner and investor to consider becoming an exclusive agent representing Kayser is an outstanding opportunity.
For conditions, open territories, information and questions regarding this outstanding opportunity please contact:
cell: 213/ 884-8448
Translated from Spanish to English written by Daniela Pradel A.
Release ID: 251329