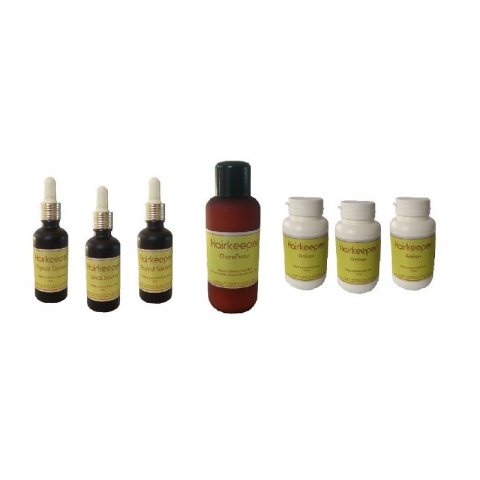 - March 2, 2017 /NewsNetwork/ —
Netherland-based Hairkeeper, a hair loss prevention group seeking to reduce baldness, launched their eStore Hair Keeper Program for men and women. Spanning over 3-months the Hair Keeper Program helps to regrow lost hair, reduce hair loss and is ideal for Alopecia sufferers looking for a solution.
More information is available at https://hairkeeper.eu.
Launched in March 2017, the Hair Keeper program is a scientifically formulated product that uses natural ingredients. These include Saw Palmetto also known as Serenoa Repens, Vitamin B6, Zinc and Sophora Flavescens which inhibit hair loss and promote regrowth.
The complete three-month Hair Keeper Program includes Hair Keeper lotion and shampoo, and an amino plus supplement, along with instructions for use. These products when used in conjunction give users the best results.
According to evidence-based complementary and alternative medicine research, common hair loss caused by lifestyle choices and poor nutrition with stress, lack of vitamins and Androgenic Alopecia, a genetic balding condition being primary contributors. Scientific studies also substantiate that the products used in the Hair Keeper Program help to stimulate hair regrowth after loss. For instance, one study of 62 men and women aged 18 to 48-years found Serenoa Repens increased hair density by 35% over 3-months and reduction by 67%.
The Hair Keeper Program began after its disgruntled founder discovered other hair loss treatments had little effect. After finding bald spots in his hair, the founder embarked on a disappointing 8-year hair restoration journey.
When asked about the development of Hair Keeper Products, the founder said, "After trying numerous hair rejuvenation products with limited results, I began researching what worked. After conducting years of scientific research, the Hair Keeper Lotion, which consists of natural Dihydrotestosterone (DHT) blockers and natural hair growth-promoting botanicals, came into existence."
To find out more about the Hair Keeper Program, visit https://hairkeeper.eu.
Release ID: 174391