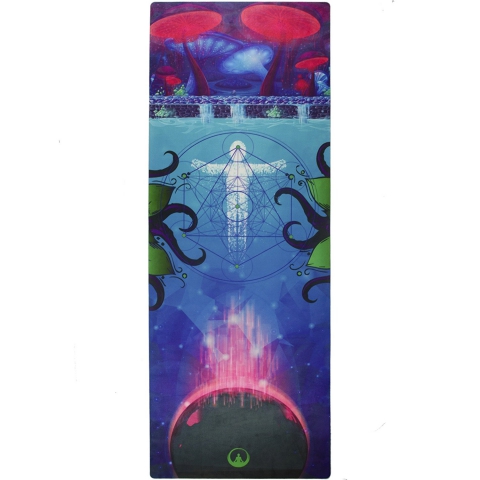 - April 28, 2017 /PressCable/ —
Los Angeles, California – April 27, 2017
Many men and women love practicing yoga for improvement of flexibility, to increase blood flow, and build muscle strength. A yoga practice can also help people connect with their inner strength and inner radiance. Having a high performance yoga mat that will be able to handle inversions, backbend poses, and standing poses engages a person's muscles, and improves the effectiveness of reaching one's health and fitness goals. Men and women enjoy using The Soul Obsession Yoga Mat because it is made from 100% recyclable and biodegradable materials, and provides the comfort and support they need at a yoga class.
The Soul Obsession's Prana Yoga Mat measures 68"x24"x4mm, and is thin enough for inversions. It has a super soft and luxurious microfiber suede top layer that is durable enough to handle the most rigorous of workouts. It's built in yoga towel on the top is very absorbent, and eliminates the need of bringing an extra towel to a yoga class. Men and women love that the Soul Obsession Yoga Mat is free of latex, PVC, silicone, and phthalates. Yoga enthusiasts find that an overbearing chemical smell coming from a regular yoga mat hinders them from doing the proper breathing techniques that yoga instructors teach. Soul Obsession uses only 100% recyclable and biodegradable materials in their yoga mats, which eliminates toxic odors, and never emits any toxins into the air.
Soul Obsession Yoga Mats are printed using water based inks. There are over 20 designs to choose from. People enjoy using The Soul Obsession Yoga Mat online as it sticks to the floor, never curls up, and always stays flat. The non-slip rubber bottom layer provides men and women the control they need for a gentle or rigorous workout. It makes a world of difference to have a good quality yoga mat to stretch and perform different yoga poses to stay in shape.
One Amazon reviewer who purchased the Soul Expression design writes, "I have been using my mat for about 3 months and I love it – the design is vibrant, and I always receive compliments. The microfiber cloth absorbs sweat and helps me keep my grip during poses without sliding. I also love the extended length of this yoga mat – it allows me to stretch out fully after a good savasana." Soul Obsession's industry leading yoga mats perform better with each use, because the more sweat it gets, the better the grip gets. The Soul Obsession Yoga Mat it is an ideal mat for men and women who practice yoga on a regular basis, and need a durable and long lasting yoga mat. Reaping all the health benefits of yoga is possible to do on a durable and eco-friendly Soul Obsession Yoga Mat. The company is dedicated to providing it's customers safe and non-toxic yoga mats. For more details about the Soul Obsession Yoga Mat, visit https://www.amazon.com/Yoga-Prana-Bikram-Mats-Women/dp/B01LWE81C3
About Soul Obsession:
Soul Obsession is based out of Miami, Florida. The company's Founder and CEO is Max Rivadeneira. He hopes his mats bring attention to the ongoing wildlife and water crisis happening today around the world. With a yoga mat purchase from Soul Obsession's Wildlife Collection, a 5% donation will be made to WILD.org. The WILD Foundation works to protect wildlife and the environment through its many global projects. With a purchase from Soul Obsession's Spiritual Collection, the company will donate 5% to Water.org. These proceeds will go to protect and save lives by bringing water and sanitation where it's needed the most.
https://www.amazon.com/Yoga-Prana-Bikram-Mats-Women/dp/B01LWE81C3
Release ID: 190492