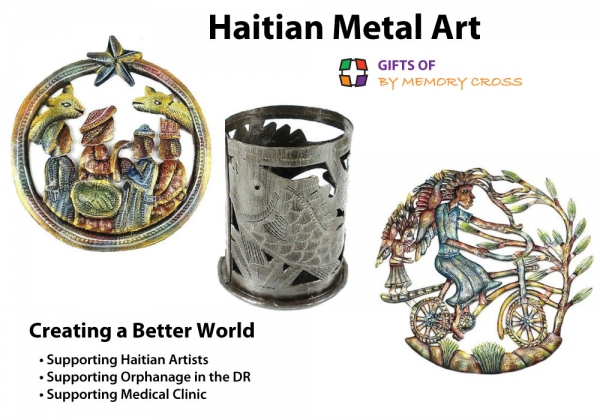 - December 15, 2015 /PressCable/ —
Gifts of by Memory Cross now carries unique Haitian metal art and the profits support the Foundation Center of Helping Hands Orphanage in Barahona Dominican Republic. Each piece adheres to the Fair Trade Federation policies that are designed to provide sustainable support to artists in Haiti and around the world.
Haitian Metal Art was originally created in the 1950's by a blacksmith, Georges Liautaud who took old 55 gallon drums and repurposed them into unique pieces of art. The art form is still unique to Haiti but has grown significantly from those early roots. Steel drums are now turned into an almost endless variety of pieces including wall art, frogs, Christmas ornaments, turtles, geckos, flowers, birds and much more.
Each Haitian Metal Art is a fair trade product. The Fair Trade Federation seeks to create environments that positively impact artists and the ultimate consumer. A list of Fair Trade guidelines can be found on the Gifs of by Memory Cross website.
Memory Cross recently established Giftsof.com to offer alternatives to mass produced products and to support an orphanage and medical clinic in Barahona Dominican Republic. Each item is handmade, many by artists or organizations that work in slums where little employment opportunities are available. Each time someone make a purchase from Giftsof.com support is given to those who practice the art of making handmade crafts around the world while the profits support an orphanage and clinic.
The Foundation Center of Helping Hands was started by Pastor Pedro Kery Johnson who is the pastor of Evangelical Church Dominicana in Barahona. There are many children either living on the streets or in unsafe conditions around Barahona and Pastor Pedro wanted to reach out to those children. Currently the orphanage houses 35 and has the capacity to house 100.
In addition to Metal Art Gifts of by Memory Cross also carries acrylic paintings by Haitian Artists depicting various aspects of Haitian life along with crafts from Africa, South and Central America.
Memory Cross' original product is an origami card with four panels that make a endless loop. They are available in English, Spanish, Haitian Creole and in a wordless format and are used to teach children Bible stories, memorize Scripture and to share the Gospel with children and adults. Many are taken on mission trips around the world. They are easy to pack and most double as a craft activity that teach children the Gospel in their native language as well as in English.
The design has also been private branded by mom and pop organizations to fortune 500 companies who were looking for a creative marketing tool. Private branded business applications are available through Proforma, a global leader in marketing, printing and web services. For samples or to get more information click here.
Release ID: 99057