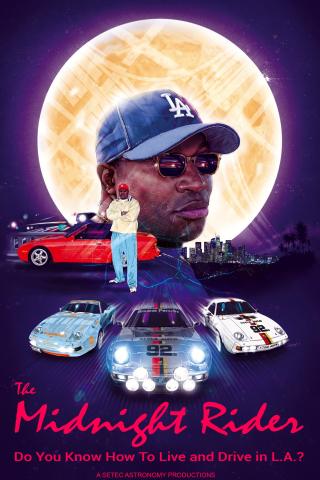 - June 19, 2020 /PressCable/ —
https://www.instagram.com/iammaverickporsche has released a potentially controversial article…
Porsche Renegade, Midnight driver, Automotive customizer designer-slash-Porsche 928 aficionado, and Collector, Maverick Miles announces his latest collaboration, this time with heralded Film Director Chaaz Williams' who will be helming the upcoming release of the Porsche lifestyle Documentary film "The Midnight Rider"
Maverick finds redemption from his nefarious past by seeking refugee in his love for cars and tackling the naysayers by becoming one of the best Porsche customizers in the world.
San Fernando Valley, California, USA -Maverick Miles is the founder of the Automotive Brand CPR & R (Classic Porsche Rescue & Restoration) which is a high-end Porsche 928, 944 and 924 Turbo restoration consortium. The renowned car collector is well known for his exclusive love for classic models launched by Porsche and the amazing creative skills that have helped him bag numerous Regional and National awards with Porsche Club of America.
Recently, Maverick has announced his collaboration with a renowned Film Director Chaaz Williams. Maverick is excited about being featured in a documentary film that is based on his remarkable life. The movie will be produced by Reelevant Films. 'The Midnight Rider' is going to be an interesting watch. The story highlights the transformation of Maverick Miles from being an epic legendary financial crimes mastermind to a celebrated car-enthusiast who gets known for his automotive lifestyle.
Maverick served 5 years in Federal incarceration because he was convicted of securities fraud, a white-collar crime. The future'Midnight Rider' had collected a staggering sum of $20 Million dollars over a period of 5 years by converting counterfeit US Savings Bonds in American banks. He could have amassed a lot more wealth, but he lost the war with his conscience and finally decided to turn himself in. It has been said that Mavericks' confidence and US Savings Bond counterfeiting scheme was one of the most ingenious and imaginative criminal stunts ever conceived and successfully executed to perfection in the criminal history of the United States Treasury and US Banking system.
"I come from modest beginnings," Maverick reflects. "I was just a clever ambitious Southern black boy who always worked hard at whatever I did, who wanted something more out of life even if I had to find a smooth criminal way to get it. I was put up for adoption by my biological mother who gave me a unique name to live up to "Maverick." My Birth Certificate says I'm 'Colored.' In my lifetime I've been classified as Colored, Negro. Black and now a so-called African American. Amazing. But I'm very proud of who I am. I'm proud to be a Black American. I was blessed to have won the Super Lotto of loving adoptive parents who did all they could for me and sacrificed so much to raise me right."
Maverick Miles' life is one of the most inspiring stories people could learn from. After completing his Federal sentence, he started his life anew by following his inner calling: Collecting Cars. The Porsche 928 entrapped his heart. "I started out collecting the Porsche 928 with just my interest in the car itself and this became my salvation and security. I took that passion for finding and restoring these forgotten relics from Porsche when no one was interested in the car when they could (and still) be had for fairly cheap." recounts Maverick. He recalls how people around him never supported his passion but would go one step further to even racially discriminate him. Maverick has set an astonishing example of perseverance and following one's dream despite the hurdles along the way. His obsession with Porsche 928 earned him a new reputation as people were dumbstruck by his attachment with this particular Porsche model. In his words: "In specializing in hunting, finding, restoring, and customizing the Porsche 928, I quickly gained a "Renegade" reputation for having a special hand with these rare and unique Porsche 928's." He later coined the phrase RENEGADE 928 contrasting the likes of the Porsche Outlaw 356 and 911 culture.
In the upcoming Documentary film, "The Midnight Rider", people will be able to see and listen to a more detailed account of Maverick Miles' life. The documentary also features the most defining moments of his life, including the foundation of his brainchild, CPR & R (Classic Porsche Rescue & Restoration) which is a high-end Porsche 928, 944 and 924 Turbo restoration consortium. CPR & R was the actualization of his dream that he started pursuing as a young teenager of 17. Maverick began his love of Porsche and its culture quite literally within Porsche as a young Car Porter. He used to work for Peter Greg, a famed Porsche racer who hired Maverick at the Brumos Porsche / Audi Dealership in Atlanta Georgia. His connection with Porsche and his groundbreaking customized designs has allowed for his passion for the Porsche 928, speed, and Porsche sports cars to fully blossom into great scholarship on the Porsche 928 subject.
Maverick is a beacon of hope and inspiration for many individuals on this planet. His outlook on life and work ethic differentiates him from the world of ordinary. He did not let adversity, his past, or his background to hinder him from achieving his dreams. He sought refugee in his creative skills and eventually moved on to share his art with like-minded car enthusiasts from around the world.
About the Personality:
Maverick, a Southern gentleman through and through, was born in Texas and raised and educated in Atlanta Georgia. Austin Texas, Cambridge Mass., Baltimore Md. and Los Angeles California. He has lived in Los Angeles for the last 23 years, since his released from Federal Custody. He is a passionate classic car collector and one of the country's top award-winning Porsche customizers and restoration specialist. Recently, he has collaborated with film director Chaaz Williams and is going to be featured in an exciting documentary film titled: "The Midnight Rider". The film will revolve around his life story and his passion for Porsche.
Release ID: 88961396