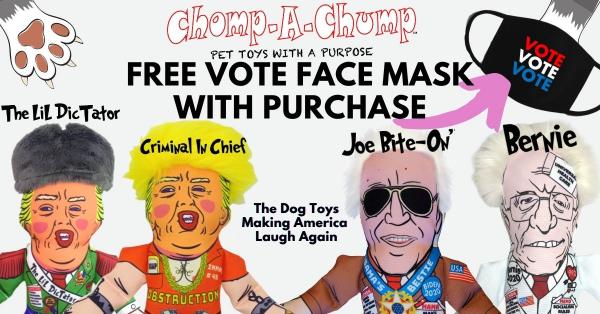 - October 6, 2020 /NewsNetwork/ —
In a hilarious change of pace, funny political pet toy company "Chomp A Chump ", famous for their Parody Donald Trump Dog Toys, will be celebrating the launch of their newest hilarious pet toys & political stress relief squeezers by giving away a FREE "VOTE" Face Mask with the purchase of each Chomp A Chump. The Funny Political pet chew toys Making America Laugh Again reported the event will take place starting on October 8th and will last while supplies last.
In a space where most pet toy companies are too scared to go, Chomp A Chump is not afraid of making a "Paw-Litical" statement and just released their new 2020 Election Dog Toy Collection. How does Chomp A Chump work? Customers can choose the candidate they would most like to watch their dog chew on. From their hilarious President Donald Trump Dog Toy to his rival Joe "Bite-On" Biden, your dog will be the one voting with their mouths this fall!
Famous celebrities such as Stormy Daniels and Katy Perry have both taken to social media, posting videos of their pets enjoying their Chomp A Chumps. Designer and Owner of Chomp A Chump, Josh Morse, says: "I started designing funny political dog toys after my rescued Australian Shepherd dog, Cody, wouldn't stop barking at then Candidate Trump on TV during a debate in Fall of 2015. I wanted to give Americans and their pets a reason to laugh during these politically polarizing times while reminding people to get out and vote! We hope you and your pets take a bite out of politics this election season with Chomp A Chump!"
With the 2020 Election and the holiday season right around the corner, you can bet Chomp A Chumps will be put to good use by their Republican and Democratic customers on November 4 while they wait for the 2020 Presidential Election results between Donald Trump and Joe Biden to be counted. Chomp A Chump is the perfect gag gift, stocking stuffer, and gift for holiday white elephant gift exchanges.
Chomp A Chump has always thrived on the idea of standing out and making a commotion. Chomp A Chump is not your average pet toy, it also gives Americans and pet owners a political rag doll/punching bag they can use to relieve their political stresses caused by pesky politicians. This launch celebration is just one of the many ways Chomp A Chump achieves its goals of making pets and people smile while also reminding them to get out and VOTE!
When asked about the Funny Donald Trump Dog Toy Making America Laugh Again, Stormy Daniels said, "It's my favorite (dog) toy to watch my dog Luci chomp on!" Daniels, an animal lover and star of a new comic book called Stormy Daniels: Space Force by Tidal Wave Productions, mentioned she partnered with Chomp A Chump to donate a portion of sales to help pet shelters. An unlikely match up, perhaps, but Chomp A Chump and Stormy Daniels are set on Making Americans Laugh Again while also giving back to pets in need.
Now it's up to you to choose from Chomp A Chump's line of hilarious toys. Will you take a bite out The Lil DicTator, The Criminal in Chief, Joe "Bite-On" Biden, or Bernie?
Chomp A Chump – The Funny Donald Trump and Joe Biden Dog Toys Making America Laugh Again, is set to launch October 8th. To find out more, go visit https://chompachump.com/
For further information about Chomp A Chump, all this can be discovered at https://chompachump.com/
Release ID: 88979795