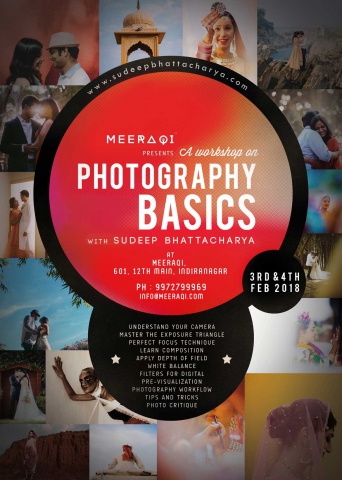 - January 19, 2018 /PressCable/ —
Earlier today, Meeraqi finally announced the beginning of its new Digital Photography Basics Workshop set to launch Feb 3rd 2018 (Saturday) and Feb 4th 2018 (Sunday) between 10 AM – 6 PM on both days, which has been in development since August 2017. The main aim is to help the attendees professionally in a big way by providing a deep understanding and a unique insight into the basics of what makes a good photograph, how to better understand your camera as a tool, how to accurately expose an image, concepts of composition and lighting, getting a grip on post processing and workflow, good photographic ethic and practices, as well as going hands on in applying the knowledge that would be shared during the workshop…. but it does so, with a difference.
Sudeep Bhattacharya, Director at Meeraqi, says: "We wanted to try something new with this Digital Photography Basics Workshop. Anyone familiar with the photography education and training will probably have noticed how everyone else seems to work on getting the job done fast instead of right and give only half the insight people actually need. This is a problem because a lot of people are left without the info they need to take action."
He continued saying… "So as a welcome breath of fresh air, Meeraqi will instead give a complete picture with nothing left out. Meeraqi chose to make this move because this should help people get real results and remember us in the future, and also because we're an ethical organization, something we believe the world needs more of."
Sudeep Bhattacharya also said "We want to give our customers a sense of empowerment. With our new Digital Photography Basics Workshop service, they have a fresh new possibility. We want them to feel excited by realizing they have made the right choice and they would want to come back again and again when upgrading their skill. Trying something new is always a risk, but it's a risk we believe is worth taking."
Meeraqi has been in business for a long time, being established in August 2017. Since Day 1 it has always aimed at creating artists out of everyday people and then collaborate with them in various different artistic projects at the levels of their expertise.
This isn't the first time Meeraqi has defied convention either. In October 2017 when they organized a multi-genre arts festival named Converge, they caused a stir with numerous artistic organizations and solo artists performing on the platform that Meeraqi created for them.
The new Digital Photography Basics Workshop service is set to launch Feb 3rd 2018 (Saturday) and Feb 4th 2018 (Sunday), 10 AM – 6 PM on both days. To find out more about the service and Meeraqi, it's possible to visit https://meeraqi.com/digital-photography-basics-workshop/.
Release ID: 287370