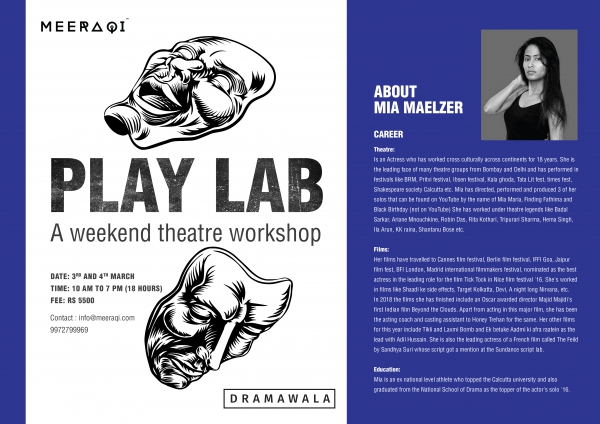 - February 16, 2018 /PressCable/ —
Earlier today, Meeraqi announced the launch of Play Lab: A Theatre Intensive Workshop in Bangalore, set to go live 3rd and 4th of March (Saturday & Sunday) 10 am to 7 pm (18 hours in total). For anyone with even a passing interest in the world of Drama, this new development will be worth paying attention to, as it's set to shake things up.
Currently, with even a passing glance, a person will notice that everyone is doing a similar kind of superficial or mediocre work in theatre whether it is at the level of production or at the level of teaching theatre to the students. The Creative Director at Meeraqi, Sahiba Singh, makes a point of saying "things are going to change when our Play Lab: A Theatre Intensive Workshop in Bangalore launches".
Sahiba Singh continues… "Where you'll always see our competitors doing the same old thing, we will do an intensive workshop open to dancers, musicians, actors, art enthusiasts or anyone who wants to understand intention and emotions through a series of cathartic exercises.. We do this because we believe we love what we do and want to excel in it aiming at getting the best results aesthetically. Ultimately this is going to be a huge benefit to our customers because it will help them become better skilled whether they are dealing with acting, direction, lighting, scenic design or else script writing for theatre."
Meeraqi was established in August 2017. It has been doing business for quite a long time and it has always aimed to build a true artists' collective and a promising art space in Bangalore.
Currently, the closest thing to Meeraqi's artistic business plans is a media and artists' collective which does not provide any art space for the artists, but Meeraqi improved on this by providing both, the artists' collective and a sprawling yet well-maintained art space. This alone is predicted to make Meeraqi's Play Lab: A Theatre Intensive Workshop in Bangalore more popular with customers in the Drama space, quickly.
Once again, Play Lab: A Theatre Intensive Workshop in Bangalore is set to launch 3rd and 4th of March (Saturday & Sunday) 10 am to 7 pm (18 hours in total). To find out more, the place to visit is https://meeraqi.com/theatre-intensive-workshop/
Release ID: 298597