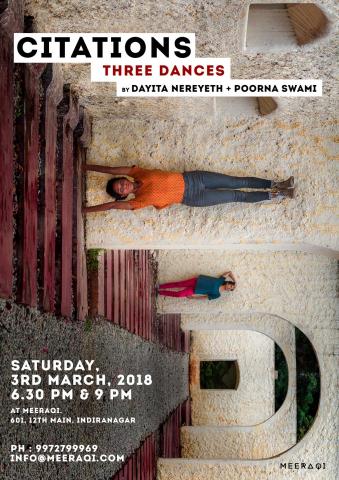 - February 20, 2018 /PressCable/ —
Dance Lovers looking forward to enjoy Contemporary Dance Shows can register to witnessh Citations: 3 Contemporary Dance Performances In Bangalore scheduled for March 3rd 2018 at 6:30 PM and 9 PM.
Meeraqi is sponsoring this year's event, which will perform the following dances:
Cartography –
Choreography, performance, and text: Poorna Swami
When bodies combine with words they create an atmosphere of silent dialogue through movement of the body that may exuberate contempt or contentment. Cartography brings together Bharatnatyam and other languages to illustrate through movement different feelings that call out to the self. Lust and lamentation are two inevitable parts of people's lives and Cartography comes boldly to talk about them. 2016 La MaMa Moves! Dance Festival in New York City witnessed the first premier of this production.
Pants Becoming Kites –
Choreography: Ellen Oliver in collaboration with Dayita Nereyeth
Performance: Dayita Nereyeth
Original sound composition: Dylan Eldredge Fitzwater (feat. Austin Retzlaff and Maya Sungold)
How does it feel when the inertia of a bus sends your body forward and back at each stop? Pants becoming Kites is a study of the ordinary daily commute broken down into dance moves to highlight how the human bodies are unknowingly constantly in a dance routine. This piece was originally performed in 2014 as a dance duet for a student production at Amherst College (USA). This time, Ellen has joined her dance brains with Dayita Nereyeth to bring in a comical side to the performance by expanding its capacities. Pants becoming Kites will explore the concept of waiting in blank spaces and perform in the stoccatos of time when the clocks stop turning.
Long time no see (preview) –
Choreography and performance: Dayita Nereyeth and Poorna Swami
Original sound composition: Dara Hankins
Original text: Poorna Swami
People live in a city and become the city while the city transforms from them. As they continue to live here, their bones become the structure of this city and their flesh and spirit forms the soul of this metropolitan. Here, they ask themselves questions everyday that they don't get answers to and they probably never will. Nevertheless, in this strangeness, they lay addicted, emotional and nondetachable from their city.
Long time no see arose from these unanswered questions, games and the trials of time. It helps people remember how their bodies combine with the skylines of this city and how each is indispensable to the other in this rigmarole of reality and fiction. Within these blurry lines of confusion and way-finding, this performance paves its own way through people's journeys of life.
Full details on the event can be found on the company website at https://meeraqi.com.
When asked about the reasons behind creating this event, the host of the event, Meeraqi in association with Dayita Nereyeth and Poorna Swami said:
We invite you to three dances that cite the city in different and intriguing ways that would tickle your brains and would entice you to move. These three dances are an ode to love, sorrow and all the things that are ignored or given excessive obsessive importance to. It is a celebration of all the textures that exist around us by bringing them into the lime light. Each of these pieces reveal different feelings that are constructed through calculated dance movements or improvised dance movements with no care as to who is watching. It is a meditative freedom.
The Meeraqi website has full details about the sessions at this year's event. Interested parties can visit the website at: https://meeraqi.com/citations-3-contemporary-dance-performances-in-bangalore/
Release ID: 302106