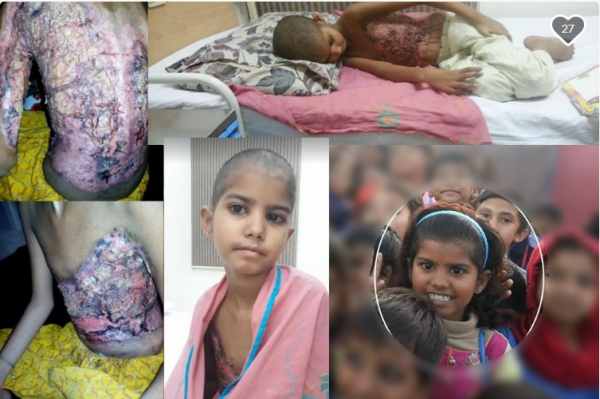 - June 20, 2018 /PressCable/ —
Meerab's parents were "waiting for her to die". She is barely 9 years old and a student at Zephaniah Academy in Gujranwala, Pakistan. Around a month ago, while cooking dinner for her four younger siblings, there was an accident – a fire which left Meerab with second and third degree burns on the front and back of her torso. Her parents locked her up in a dark room with no air conditioning, treatment or care for an entire month.
It was Eid, schools were closed hence it was almost a month later that Sister Zeph, the founder and leader of the school Meerab attends, learned of her plight. She went to check up on her immediately only to find her student's mother engrossed in watching TV.
After quite the struggle with her parents and with the help of friends, Sister Zeph was able to admit the little girl to a private hospital. Initially, no hospital would admit her for treatment, however the support of friends in USA with connections in Pakistan facilitated her admission into a private hospital. Meerab needed her own private room because her wounds are open and infected with a deadly bacteria. This bacteria is highly contagious and can infect anyone who comes into contact with her thus she has been given her own room.
Sister Zeph will also have to undergo testing because she was in direct contact with Meerab, cuddling the injured little girl covered in open wounds for many days. Exacerbating this is the heat in Pakistan at this time of year as well as mosquitoes and flies – feasting on her rotting flesh when she was locked up in a room for a month by her parents.
With Meerab safe in a private hospital and with help from friends in the US, taking care of the most expensive medical costs, Sister Zeph still needs assistance in covering certain expenses which she has been been paying out of her own pocket:
Medication. Meerab needs a variety of medicines on a daily basis, the costs of which vary from $50 to $80.
Travel expenses. A round trip from Gujranwala to Lahore takes 4 hours. Sister Zeph has been travelling back and forth to visit Meerab weekly, recently spending 6 days in continuous travel, costing hundreds of dollars in gas.
Meerab's private room. Sister Zeph has paid $500 in deposits several times. This will be an ongoing expense.
Food. Meerab has been prescribed a specialized diet as she is emaciated from lack of food.
Clothing. Meerab hardly has any clothes and requires clothes made out of delicate material and sewn specifically to avoid contact with her wounds.
Testing. She needs to be tested frequently due to the open wounds and infection
Blood. Although she has already received two units of blood, there will be a continuous need for more owing to the fact that she didn't receive any treatment for an entire month leading to blood oozing out of her wounds continuously resulting in considerable blood loss.
Meerab will be hospitalized for a month after which Sister Zeph will tend to her in her own home until she has made a full recovery. Eventually, she is hoping to get full custody of Meerab despite the long and difficult process this might be. Meerab's face lit up when she received well wishes in hospital and has big ambitions: to become a doctor and help others!
Sister Zeph is deeply grateful for any generous donations to help Meerab recover fully from this ordeal. It is Sister Zeph's sincere hope that donors can enable Meerab to believe that her life matters to kind strangers even though it didn't to her own parents.
Please donate here for Meerab:
http://www.learnmoreabout.info/SAVEMEERAB
Here is Sister Zeph's general fundraiser page:
http://www.learnmoreabout.info/SISTERZEPHACADEMY
Credits:
Based on Sister Zeph's story, copy written by kalyanispeaks@gmail.com
Release ID: 362445