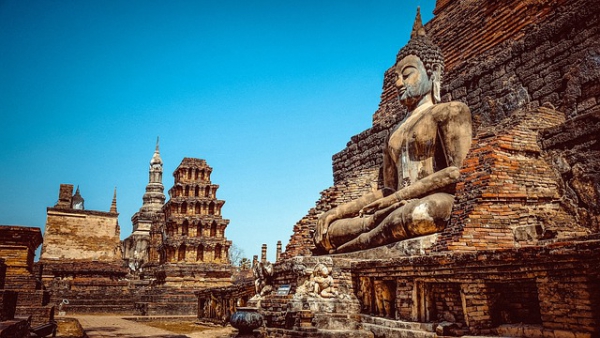 - November 26, 2016 /PressCable/ —
Meditation Talks latest article unravels a list of 12 sacred lands to go for a year round journey and have at least a couple of hours mindful meditation time there. Avid lovers of traveling and practitioners of meditation will love this piece and can view it in full here: http://meditationtalks.com/12-sacred-sites-around-the-world-where-you-should-meditate/
"Imagine you were given a quest, to go around the world for a year and meditate at all different sites and locations. What would be your personal choice?" asks the article as it opens for the reader's eye.
It goes on to present 12 sacred lands and sites that do count for best places to meditate in the world, where travelers and meditation practitioners can embark for a so-called meditation pilgrimage. Aside featuring some really carefully picked sacred lands and sites, the Meditation Talks team have also taken care to make short but intriguing and educational review for each of those places.
"Situated in Cambodia, the Temple of Angkor Wat each year hazes many with its incalculable number of sculptures and decorations, but much more than that, the story of the temple is well beyond just ordinary (…) the Angkor Wat must have existed as a tomb first, and then as everything else. Its bas-reliefs are constructed so they can be viewed anti-clockwise, that in the roots of ancient Hindu funeral rites, makes a lot of sense. Vishnu was associated with the west. To intensify the feeling a little bit more, the Angkor Wat is the architectural manifestation of the sacred Mountain Meru of the Hindu faith, or what will equal with the Mount Olympus in the Greek mythology," is an excerpt of the review dedicated to Cambodia's most well known sacred site worldwide.
The article proceeds to numerate Myanmar, Thailand or India as some of the Asian lands on the list, but it also give good reasons why Patagonia for example can make a great place for a meditation retreat.
"I don't want people to think that we have selected these sacred sites and locations only because they may seem very exotic and attractive for people. It is scarce to visit any of these astonishing locations solely for touristic purposes. Personally, I would not visit them myself like a tourist anyway, but as somebody who wish to learn more about humanity, about our planet, and finally to use that and get to know themselves better," have said Stephen, editor at Meditation Talks, as discussing the creation of the list.
Readers and followers can review the list and make their own input as well: http://meditationtalks.com/12-sacred-sites-around-the-world-where-you-should-meditate/. As the editors at Meditation Talks invite over the article, everybody can imagine their perfect year-round mindful meditation retreat. It may be costly to visit all 12 countries or impossible due to administrative reasons, but choosing at least one of those 12 best places to meditate in the world, is worth a life-time experience.
About Meditation Talks
MeditationTalks is a news site that features all latest evolutionary news, information & videos that illustrate how meditation is having a powerful impact. Meditation practitioners or of other related mindful practices like yoga or astrology, aside enjoying and benefiting in knowledge from the news site, can also be part of the vibrant and evolving community of MeditationTalks on site & over their vibrant social media channels.
For any inquires that readers may have for MeditationTalks it is possible to send a question to the team at the official website: http://meditationtalks.com/
Release ID: 149679