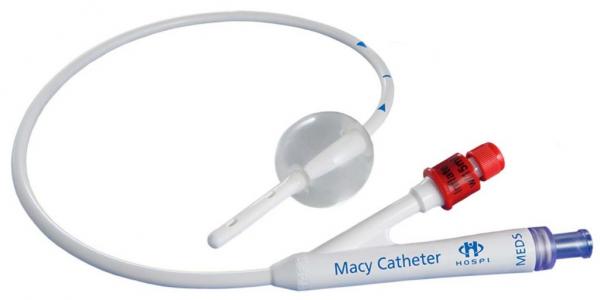 - February 1, 2021 /PressCable/ —
Thanks to a novel medication and fluid administration technology, patients facing serious or terminal illness and their caregivers can benefit from the fact that rectal medication administration is being transformed. The method is now discreet, dignified, painless, and reliable. A peer reviewed article in the December issue of the Clinical Journal of Oncology Nursing entitled "Macy Catheter: Integration and Evaluation in a Hospice Setting to Provide Symptom Relief During End-of-Life Care," reports that the vast majority of nurses surveyed found the Macy Catheter to be superior in both effectiveness and comfort than the sublingual and subcutaneous routes.
The Macy Catheter has helped thousands of hospice and palliative care patients who cannot take medications by mouth. It is often prescribed to administer oral formulations via the rectal route. This method works as a needle-free alternative to IV and subcutaneous routes, and can mitigate shortages of injectable formulations. Clinicians have found that using the rectal route is often faster and safer than establishing IV access, and can cut costs as well.
Because it does not need a sterile technique and supplies, it can be used to treat patients in place. This includes in low acuity settings such as at home or in nursing homes, and thus can prevent hospital transfers. It can also facilitate discharge home from acute care and inpatient facilities. Because medication and hydration can continue via the Macy Catheter, patients can receive care anywhere.
Not only does this device help reduce the strain on injectable medication needs, but it also protects at-risk individuals from becoming exposed to Covid-19 by reducing the need for patient transfers. Because the Macy Catheter is simple to use, it can allow vulnerable patients to receive much needed medical care from the comfort of home.
The recent pandemic is by all accounts an emergency situation, and it has led to the development of further emergencies (including restrictions, Shelter in Place orders, medication shortages, and skilled staff shortages).
Utilizing the Macy Catheter helps families and caregivers keep their loved ones safe at home, even when they're in need of hospice or palliative care. This way, individuals can continue to receive necessary care while reducing their exposure risks and reserving injectable medication for emergency medical situations.
The Macy Catheter® is an in-dwelling, balloon retained rectal catheter developed to allow rectal administration of medications and fluids. It is the first FDA cleared and CE marked device of its kind and is protected by several issued patents.
The LiquiPill® accessory included in some kit configurations helps to prepare suspensions from tablets for micro-enema administration via the rectal catheter.
Release ID: 88995530