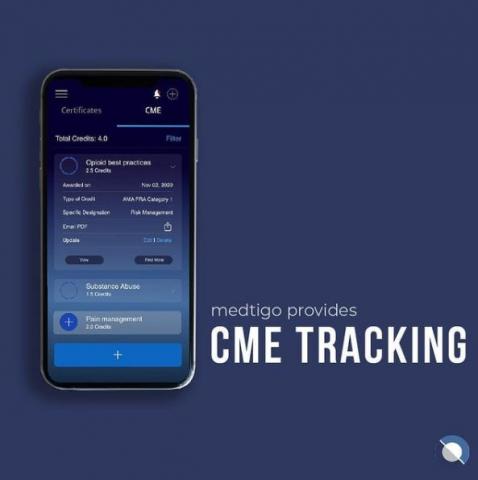 - February 4, 2022 /PressCable/ —
medtigo has launched a new version of its state-of-the-art app, providing doctors, nurses, and all manner of healthcare workers with an automated personal assistant to help them stay on top of their regulatory obligations.
More details can be found at https://connect.medtigo.com/certificates
The latest iteration of the platform offers personalized tracking of CME credit requirements, medical licensure, and a host of other accreditation requirements. The app provides a streamlined and intuitive solution to keeping health professionals abreast of renewal dates and documentation deadlines.
medtigo provides users with automated 'time to expiration' reminders via email, ensuring no deadline is missed. The app also enables medical professionals to synch their profiles to their places of work, authorizing access to documentation with just a couple of clicks.
Cloud-based document storage is also accessible through the app. A two-factor identification process ensures the highest level of data protection and security for users.
The company understands the increasing pressures of time and administrative obligations facing the medical profession today. The platform enables healthcare staff to concentrate fully on their vocational duties, safe in the knowledge that the credentialing and re-credentialing process is handled by the medtigo team.
The platform also handles all state licensing on behalf of users. It sources documentation and completes all initial applications.
The company also brings many years of experience in locum staffing, harnessing the power of cutting-edge technology to offer agency workers the best vacancies at sector-leading rates. Platform members can expect to receive an hourly rate around 15% higher than rival agencies.
About medtigo
The company was founded in 2014 by Dr. Rick Kulkarni with a vision to provide a lifestyle brand and professional services for the medical community. The development team is dedicated to improving the working lives of medical professions across New England.
A spokesperson says, "medtigo will help you stay current by tracking your licenses, CME requirements, and certifications."
With the latest updates to the platform, medtigo combines dedicated career support and cutting-edge technology for the healthcare professions throughout Massachusetts and beyond.
For more information, please visit https://connect.medtigo.com/home
Release ID: 89062456