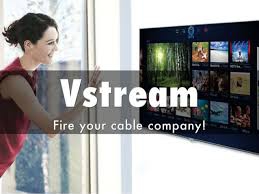 - July 14, 2016 /PressCable/ —
The popular VStream TV announced the launch of an upgraded multimedia and home entertainment streaming device, VS2 Media Center, with multiple new features tailored to provide a complete, leading and user-friendly streaming experience.
More information is available at http://nomoremonthlycableordishbills.com.
The VStream TV is a prominent provider of leading and highly popular media centers powered by Android and designed to provide a complete media streaming experience by combining TV with content from the internet to help customers effectively turn any television device into a fully functional home computer and smart TV.
The business announced its upgraded VS2 Media Center, allowing for unlimited and HD streaming of up to 200,000+ TV shows and movies, sports, TV channels, radio, music, and more, along with complete and Windows-like web browsing, 2D and 3D online gaming or video chatting, with no monthly contracts or fees.
The newly upgraded VS2 Media Center also combines the traditional and leading media streaming, gaming, browsing and video chatting features or Wi-Fi compatibility and free access to the broad range of games and apps available on the Google Play Store with a newly added wireless keyboard and mouse, built-in HD camera and AV/HDMI outputs to easily connect with any TV device.
More information on the newly launched VS2 Media Center and the multiple upgrades introduced along with video overviews of the applications available within the media streaming device along with detailed comparisons with other media streaming systems can be consulted on the website link provided above.
The VStream TV Chief Marketing Officer, Carlos E. Rojas, explains that "VStream-TV is the new generation of multimedia and entertainment for TV. It allows the television to stream all favorite shows, movies, and sports without monthly bills or fees. Users can also install favorite add-ons and apps with only a couple of clicks. That allows for an unlimited streaming experience."
He adds that "the upgraded VS2 Media Center transforms a television. Our management of innovation has been working with the research and development team for over a year to deliver this advanced and upgraded product with no more monthly fees or contracts".
Release ID: 123399