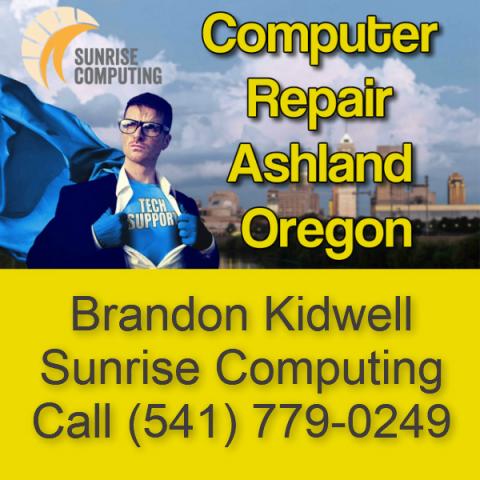 - February 26, 2019 /NewsNetwork/ —
Medford Oregon computer repair company and Ashland computer repair company Sunrise Computing announces Managed IT Services. Sunrise Computing is located in the CobbleStone Village at 1263 N Riverside, Suite 12, in Medford, Oregon. For more information about Sunrise Computing, go to https://sunrisecomputing.net/managed-it-services/
According to owner Brandon Kidwell, "Sunrise Managed IT Services lets you save time and money by letting us do all the heavy lifting for your IT needs. On average each employee wastes around 30 minutes a day dealing with computer issues. It could be waiting for it to load a program, freezing, the printer not working, and other issues that just want to make you bang your head on your desk." He further added, "Call us and ask about our Managed IT Service. This amazing program combines several of our top of the line products into one for a low monthly cost. So get back to doing what you love, running your business, and let Sunrise Computing handle your IT infrastructure!"
Benefits of the Sunrise Computing Managed IT Services plan:
● Industry leading anti-virus included
● Priority support and ticket escalation
● 24×7 monitoring and assistance
● Launch support request from your desktop
● A backup and disaster recovery solution that fits your business
● Discounted Hardware and hourly rates.
● And more!
● No minimum hours purchased per month. There is a per device cost as a base along with a discount on any hourly work that may need to be done during the month.
People usually have to take their computer to a repair store and leave it there until the computer is fixed or pay an increased rate for onsite service. An onsite computer repair service like Sunrise Computing can visit the customer at their location and carry out the repair or service work in their presence so questions can be answered on the spot. There is no additional charge for onsite repairs within 20 miles of the city of Medford, which includes Ashland. There is also the option of having the computer repaired at the office of Sunrise Computing.
For more information, see https://maps.google.com/?cid=584838585739680530 and https://goo.gl/posts/PpBzX
About Sunrise Computing
Sunrise Computing is a Medford, Oregon computer repair company that has been serving the people of Medford and Ashland for over 4 years.
Experience: Brandon Kidwell has over 10 years of professional experience in computer hardware, networking and troubleshooting. Certifications include A+, network+, Cisco, Fortigate, and more.
According to owner Brandon Kidwell, the mission statement of Sunrise Computing is: Straightforward and easy tech support for all.
The company offers the following services:
● Medford computer repair services and Ashland computer repair services
● Medford computer networking services and Ashland computer networking services
● Medford residential computer repair and Ashland residential computer repair
● Medford business computer repair and Ashland business computer repair
● Medford computer store and Ashland computer store
● Medford Windows computer repair and Ashland Windows computer repair
● Medford Apple computer repair and Ashland Apple computer repair
● Medford Mac computer repair and Ashland Mac computer repair
● Medford TV streaming setup and Ashland TV streaming setup
● Medford phone screen repair and Ashland phone screen repair
● Medford network and WiFi diagnostics and Ashland network and WiFi diagnostics
● Medford custom computers and Ashland custom computers
Contact Info:
Name: Brandon Kidwell
Organization: Sunrise Computing
Address: 1257 N Riverside Ave #12, Medford, OR 97520, United States
Phone: +1 (541) 779-0149
For more information, please visit https://sunrisecomputing.net
Release ID: 485780