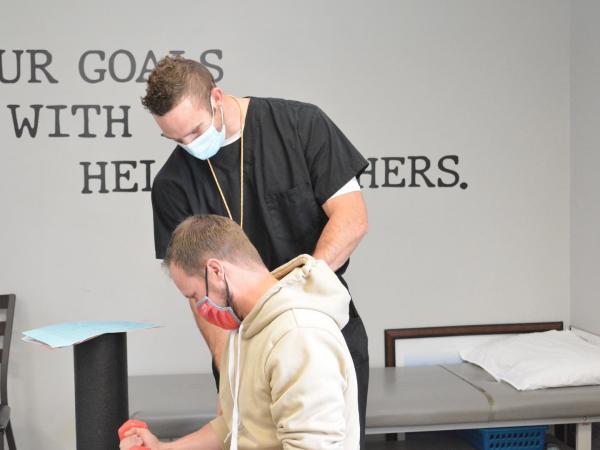 - April 1, 2021 /PressCable/ —
Today, Advanced Spine Joint and Wellness Center reflected on its release of their new and improved Physical Therapy method in 2017, called Mechanical & Diagnostic Therapy (MDT). The main aim was always to provide an individualized approach to each patient's therapy that would drastically increase the quickness and effectiveness of sustained improvement in function, mobility, and pain relief. And by defying convention, this innovative Physical Therapy method did so, with a difference.
Edwin Pierre Vines (DPT), Physical Therapist at Advanced Spine Joint and Wellness Center, says: "We wanted to try something new with MDT. Anyone familiar with the health and specifically Physical Therapy realm will probably have noticed how most Physical Therapy clinics always seem to use conventional PT methods that are not unique to each patient's symptoms. Therefore, they don't always help patients reach their goals. We felt this was a problem because Physical Therapy is not a one-size-fits-all kind of treatment. Under conventional therapy, many people are not seeing the results they deserve because it's not specific to their unique body and issue."
So as a welcomed breath of fresh air, MDT instead employs a patient-centered approach to therapy that uses clients' real time responses to movements to determine the treatment classification and approach of future therapy exercises. Vines spends uninterrupted time evaluating and assessing each patient, conducting tests before and after each exercise, and establishing a specific treatment plan to improve symptoms while also addressing the root cause. Advanced Spine Joint and Wellness Center chose to make this move because the results speak for themselves. Successful outcomes of pain relief, restored function, and increased mobility are exponentially higher with the use of MDT over conventional therapy techniques.
Vines also said that "we want to give our clients the best results with their pain and problems in addition to the ability to manage their pain at home when flare-ups happen. With MDT, they have a fresh new possibility to do just that. We want them to feel hopeful and confident that they can get back to a pain-free life when using MDT. Trying something new is always a little uncomfortable, but MDT has proven worth it."
Advanced Spine Joint and Wellness Center has been in business for about 8 years, as it was established in 2013. Since Day 1, they have always aimed to to get patients back to living their lives free of pain while using the most natural treatment options possible.
MDT-guided therapy is now available at at the Advanced Spine clinic. To find out more, visit https://www.adv-health-medina.com/physical-therapy-medina/
For further information about Advanced Spine Joint and Wellness Center, check out https://www.adv-health-medina.com
Release ID: 89003454