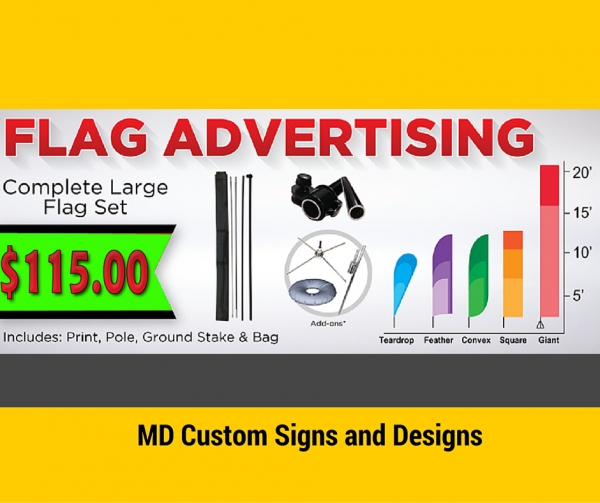 - January 29, 2016 /PressCable/ —
In a creative and unique change of pace, Sign Store "MD Custom Signs and Designs", will be celebrating the launch of its New Outdoor Flags by an offer on a Facebook page online and at the shop. It's reported the event will take place on January 27, 2016.
In a space where most competitors simply talk about it and fail to cause much of a stir, MD Custom Signs and Designs has opted to be a little more creative with it's Flag Advertising launch.
Darren De Palo, Founder at MD Custom Signs and Designs, in New Bern, North Carolina says: "This a creative way to advertise with the New Outdoor Flags launch and to give a great opportunity to advertise for clients, businesses, shows and events.
It should be really worthwhile and hoping it will show how MD Custom Signs and Designs is a unique and creative store for businesses. It should go great unless the material runs out!
MD Custom Signs and Designs has always thrived on the idea of standing out and making a commotion. It's all part of the fun and it's going to will give businesses another way to advertise outdoors, which is better than businesses who choose to do things the 'regular' way. This launch celebration is just one of the many ways MD Custom Signs and Designs achieves that goal.
When asked about Flag Advertising, Darren De Palo said: "It's going to be a real hit because it is a great way to attract more customers to stop in and buy".
There are more products than just signs at MD Custom Signs and Designs.
Flag Advertising is set to launch January 27 . To find out more, it's possible to visit www.facebook.com/mdcustomsigns
For further information about MD Custom Signs and Designs in New Bern, North Carolina, all this can be discovered at www.mdcustomsigns.com
Release ID: 102248