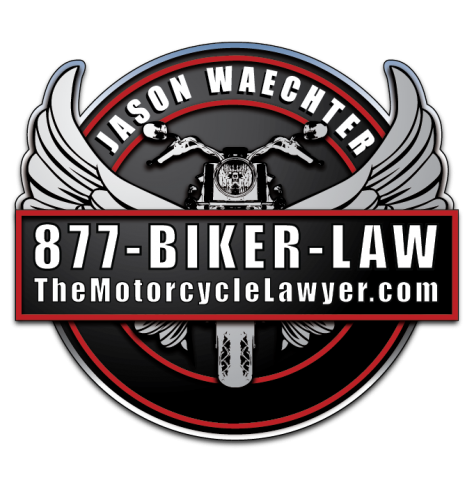 - April 30, 2021 /PressCable/ —
May is motorcycle awareness month. Often drivers are not used to seeing motorcycles on the road during the winter months or at least this is how it is for residents of our northern states. Therefore, when motorcycle season arrives many drivers of cars trucks and vans get that there will be smaller and visually different vehicles to see on the roads.
May is motorcycle awareness month because by May 1 every year the weather in all of our states is pleasant enough to be riding motorcycles regularly. The American Motorcycle Association launched May as motorcycle awareness month back in the early 80s. It was adopted by many states with the backing of motorcycle-rights organizations.
Attorney Jason Waechter who is known nationally as the motorcycle lawyer warns car drivers, "Especially at the beginning of motorcycle riding season we see an uptick in motorcycle accidents where the car driver states they just did not see the motorcycle. This is partially because bikes are all of a sudden new to them again. that being said, these drivers are negligent for failing to see what is there in making sure it is absolutely clear before making certain turns. The number one accident that involves motorcycles is at an intersection or the car driver is attempting a left turn across oncoming traffic where a motorcycle is proceeding."
Motorcycles are even easier to see these days with the advent of low cost and right LED headlights. many motorcyclists add lighting to the front of their motorcycles which will even make them more visible. One technique especially used in Europe is to have the white headlight of a motorcycle cycle on and off so that its conspicuity is even more noticeable.
"There are many motorcycles that actually should have been heard as well as seen", says Waechter. a stock Harley-Davidson motorcycle has that nice fairly loud cool motorcycle sound. Many owners add aftermarket exhaust systems that are even louder, for example Harley's Screamin' Eagle Performance kit not only improves performance with acceleration and improve passing power, but is also a bit louder than the pipes the motorcycle comes with off the assembly line. There is a saying in the motorcycle community, "Loud pipes save lives."
So as the motorcycle riding season starts in full force across our entire country, please remember that motorcycles are back on the road in every state. Many motorcycle awareness campaigns use the following slogans: "Look twice, save a life, motorcycles are everywhere!" for more information about Attorney Jason Waechter, The Motorcycle Lawyer's accident prevention campaign and some statistics about motorcycle accidents please visit www.themotorcyclelawyer.com and www.motorcyclelawyermichigan.com
The Motorcycle Injury Lawyer — Jason Waechter
Release ID: 89008104