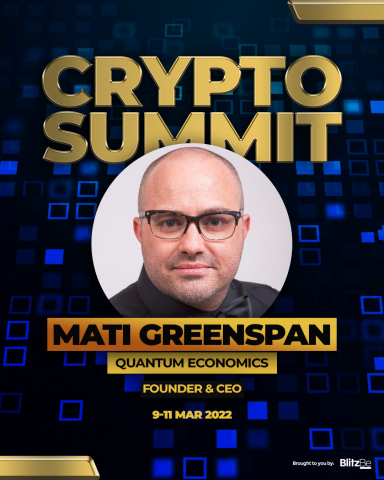 - March 2, 2022 /PressCable/ —
The Gold Rush Crypto Summit takes pleasure in welcoming Mati Greenspan, Founder, and CEO of Quantum Economics, a leading firm for research and analytics in the Crypto Space.
He is a former Senior Market Analyst at eToro and a Licensed Money Manager in the European Union.
He's co-author of the book "The Complete Guide to Fintech Investing" and currently advises publicly for Lunar CRUSH, Electroneum, and Luno Global.
Mati Greenspan shares some crypto tips with The Gold Rush Crypto Summit and amazing strategies on how to think about investing in cryptocurrencies as a beginner. Coming from the perspective of a Licensed Money Manager, he enlightens the difference between a trader from an investor.
"The difference between a trader and an investor is, you know, somebody who loses money versus somebody who makes money consistently. It almost always works like that," Greenspan aforementioned.
He also introduces the idea of "Copy Trading".
"Let's say if you deposited $10000, you take one thousand dollars and you go to my profile and you click the blue copy button. And then that one thousand dollars is mirroring my portfolio. So if I buy bitcoin at a certain percentage of my account that's going to buy bitcoin at the same percentage in your allocation," Greenspan explained.
Join Mati Greenspan, learn more crypto tips and strategies, and be inspired by how he is supporting others with cryptocurrency.
The Gold Rush Crypto Summit helps Crypto beginners learn the secrets of how to participate in safe cryptocurrency platforms to build a financial future.
Crypto beginners can learn to avoid the most costly crypto mistakes and bring awareness of Cryptocurrency as a wealth-building alternative.
"We are committed to educating the cryptocurrency community on how to use secure cryptocurrency platforms. We have invited some of the World's Top Crypto Experts who will be sharing their success secrets and strategies about Cryptocurrency", says Rick Hayhurst, co-founder of The Gold Rush Crypto Summit.
The Gold Rush Crypto Summit goes live March 9-11, 2022, 11a-6p EST.
This remarkable and extraordinary three-day event will stream interviews and sessions with some of the World's Top Crypto Investors and Experts, sharing expertise and success secrets with Cryptocurrency.
Monika Krimedahl and Rick Hayhurst, co-founders, invite beginners and experienced pros to join this must-have event and learn awesome strategies and methods to create more money from some of the leading Crypto Experts!
More information can be found at https://www.thegoldrushsummit.com/cs2022
Release ID: 89066200