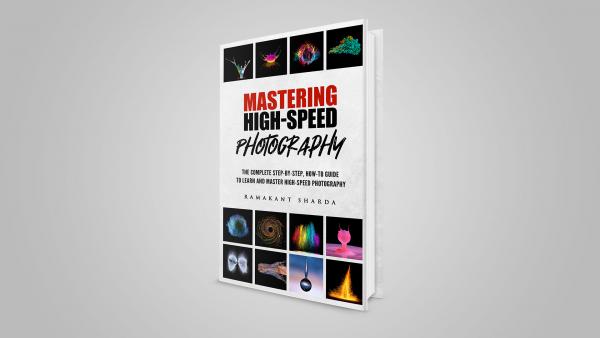 - October 18, 2020 /PressCable/ —
Award-winning photographer and author Ramakant Sharda has just launched his book Mastering High-Speed Photography. This step-by-step guide is intended to share techniques and ideas with photography beginners to help them capture unique and high-quality photos.
More information is available at http://masteringhighspeedphotography.com
The newly launched book Mastering High-Speed Photography is intended for all audiences and includes ideas and basics for all photography levels to begin understanding the fundamentals of this specific and attention-drawing type of photography.
Among those basics are detailed breakdowns of the correct camera equipment, like the lens, flash, and camera, the importance of setup images to make the shoot easier, camera and trigger settings, and a breakdown of a typical production workflow. Examples of the application of this style of photography are included, such as kaleidoscopic colors, prismatic crowns, magnificent refractions, and whirling rainbows.
The just-released guide Mastering High-Speed Photography is written by award-winning photographer Ramakant Sharda, who draws on his own experience in leading photography workshops and creating three coffee table books about photography called Frozen Moments, Ephemeral, and The Third Dimension to guide readers in their own learning.
Included in this now-available guide to ultra-high-speed photography are detailed diagrams that aim to explain to readers the function of certain camera elements, including aperture and shutter speed.
The guide's list of available commercial equipment used in the photography process is intended to save the reader time from doing the research themselves, allowing them to focus more on the process of learning the new skill.
Erkan Yiğiter, Co-Founder & CTO of MIOPS Camera Trigger shared his thoughts on the book. "If you want to be part of this magical photography area but don't know where to start, this unique source would be a bedside book for you. Ramakant did a great job by writing this book to share his expertise on high-speed photography and I am sure it will inspire many photographers from amateur to professional. In this book, you will find lots of great high-speed photography examples with all details of the setup and camera settings."
More information on pricing, including buying the print and e-book, can be found at the link above.
Release ID: 88981337