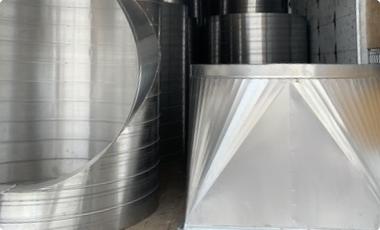 - September 23, 2021 /PressCable/ —
Mason Scott, the industry's premier commercial and residential air system ducts and fittings manufacturer, is now offering flat oval and spiral duct work too. This retro-industrial duct work is both energy efficient, making it less costly on monthly utilities, and very pleasing to the eye.
Mason Scott Industries manufactures round spiral ducts, flat oval ducts and corresponding fittings. Round spiral ducts are made in sizes ranging from 4" through 60" diameter. Flat oval ducts are made in sizes ranging from 4"X7" through 24"X74".
As the market continues to expand for spiral ductwork, a lot of Mason Scott clients are asking themselves, "Why choose spiral pipe over traditional rectangular ductwork?" Quality flat oval and round spiral ductwork, backed by the Mason Scott guarantee, is more visually appealing, energy efficient, cost effective and requires significantly less installation time.
With the help of MAXBURST Web Design and MAXPlaces Digital Marketing, Mason Scott has launched a brand new website to better serve their customers and expand brand awareness. MAXBURST Web Design, a New York based website design firm, helped create a website that is both aesthetically pleasing and functional. MAXBURST took their unique vision and provided them with a world class site that clearly speaks to the unique benefits of flat oval and round spiral ducts. Following their website launch, Mason Scott employed the services of MAXPlaces Digital Marketing. MAXPlaces, another New York based agency, is a full-service digital marketing group specializing in a range of online marketing services. Together, Mason Scott and MAXPlaces hope to improve their search engine optimization and increase brand awareness across the web.
At Mason Scott Industries, they have mastered the art of spinning Flat Oval & Round Spiral Duct. Their ductwork provides a modern upgrade and customizable fit designed for any space. Learn more and let Mason Scott Industries help find solutions to any of your ductwork needs by visiting their new website at www.flatovalspiralduct.com.
Release ID: 89046562