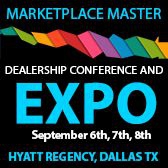 - August 17, 2017 /PressCable/ —
Fear is the one emotion that can shape a person's reality, and for sales associates fear of rejection can be the kiss of death.
Internationally recognized sales expert and professional speaker and entrepreneur, Mark Tewart, said that the best way to overcome fear is to motivate oneself to repeat the task or challenge over and over. In time, the fear dissipates, and because of the repetition, what was once feared becomes a strength.
Tewart, who has a 27-year career in sales and consulting, will be a keynote speaker during the Marketplace Master Dealership Series Conference and EXPO, Sept. 6-8, at the Dallas Hyatt Regency. Tewart will join more than two dozen expert speakers at the national conference, and will discuss: "The 5 Keys to Successfully Managing Any Dealership."
One of the biggest fears salespeople have is the fear of rejection, Tewart said. Salespeople tend to wear a mask and say they are "natural salespeople" or that they "great at their jobs and have always been that way."
"What is usually true is that if you are great at sales, you've likely had a number of failures and more fear to get good at what you're doing," Tewart said. "If you can learn the aspects of your subconscious and how it affects you, you can dramatically change what you do, how you do it, and the results that you get."
The conscious choice, Tewart said, is affected by the subconscious. The subconscious never loses any thoughts, messages, images, teachings — especially if you have had failure. People tend to internalize their failures, and when they fail, their subconscious tells them not to try that again, and that affects the conscious choices people make.
"About 70 or 80 percent of what we do doing the day is driven by the subconscious, robotic information that being fed to the conscious mind that dictates what you do and don't do," Tewart said. "Great sales people learn to conquer their subconscious mind."
Tewart, who has started four successful business and hosts training events and seminars, said he was pleased to be on the executive board of the Association of Automotive Sales Professionals (AASP), and looking forward to the AASP offering both Sales Manager and Sales Professional Certifications following the Marketplace Master Dealership Series.
"Sales professionals need some consistency in their training and we feel we have put together the best training anywhere at the Marketplace Master event," Tewart said. "Having managers and sales associates earn certifications will improve the dealership's profitability, but also make them better at what they do, not only in the dealership showroom, but in life. They will have the tools presented to them that will help them overcome fear."
About Mark Tewart
Mark Tewart is a sales expert and professional speaker, trainer, consultant, entrepreneur and author of the best seller "How to Be a Sales Superstar – Break All the Rules and Succeed While Doing It." He has a 27-year career ranging from sales to becoming an executive manager at age 27, to founder and president of four successful companies. He is a professional member of the National Speakers Association and the Author's Guild. Visit his website at http://www.MarkTewart.com
About Marketplace Master Dealership Series
The Marketplace Master Dealership Series Conference and EXPO is the most dealer-focused, education-centered Conference and EXPO in the nation. The goal of conference is to bring expert advice, sales training, and marketing best practices that will help educate and help better the automotive industry nationwide. For full details about the Marketplace Masters Dealership Series Convention and Exposition visit https://www.MarketplaceMaster.com
About Association of Auto Sales Professional
The Association of Auto Sales Professionals offers certifications for management and sales personnel throughout the retail automotive industry. Certification requirements include 12-14 hours for management professionals and 8-10 hours for sales professionals. The Certification Programs elevate the standards of the profession, which enhance individual and sales team performance. For more information about this program visit https://www.MarketplaceMaster.com/certification
Release ID: 229974