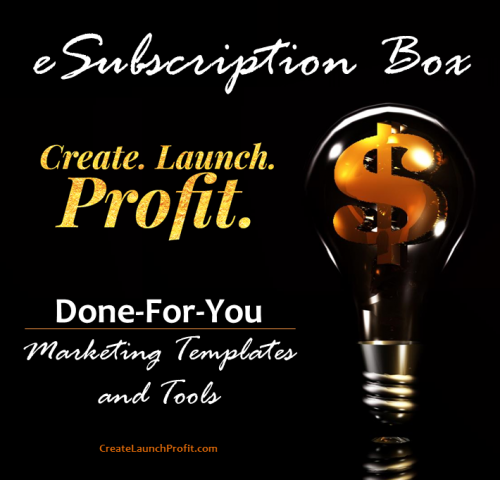 - January 19, 2018 /PressCable/ —
In a surprising and highly anticipated change of pace, the boutique marketing consulting agency that specializes in small business "Marketing Sparkler", will be celebrating the launch of its new Create Launch Profit eSubscription Box service, a monthly set of marketing templates based on common systems every business should have in place. As part of the launch, businesses can join for more than 50% off the regular subscription price. It's reported the launch event will take place beginning Friday January 19, 2018.
In a space where most competitors simply coach small businesses on what they should be doing and fail to cause much of a stir, Marketing Sparkler has opted to be a little more surprising and constructive with the inception of its new Create Launch Profit eSubscription Box, a monthly set of done for you marketing templates designed for easy customization and immediate use.
Kemya L. Scott, Owner and Marketing Strategist at Marketing Sparkler, says: "We wanted to be a valuable resource from inception with our Create Launch Profit eSubscription Box. We know people get stuck in the implementation stage of marketing. Many entrepreneurs attend webinars, buy ecourses, read books, etc., and try to piece all of this information together. The problem arises when it's time to implement all of this newly learned information. Nobody explains exactly WHAT to write or HOW to do the THING to get results, without charging thousands of dollars in consulting fees.
It should be really practical, and the goal is to provide small business owners an affordable solution to the "what do I say" question. We want people to do more than simply learn tried and tested marketing techniques; we want to give them templates to facilitate the use of these techniques. Our monthly subscription fee makes this an affordable option for every business, whether they are just starting out or already established. The launch should go great unless the internet shuts down and nobody can download their files!
Marketing Sparkler has always thrived on the idea of standing out and making a commotion. It's all part of the fun and our eSubscription Box is going to give every small business the marketing templates they need to build automated marketing processes! Businesses will boost their value to customers and prospects alike, and they will be able to create systems that can be automated and duplicated over and over again, which we think is better than businesses who choose to do things the 'regular' way. This launch celebration is just one of the many ways Marketing Sparkler achieves that goal.
When asked about the Create Launch Profit eSubscription Box service, Kemya L. Scott said: "We think it's going to be a real hit because there is nothing else like it around! At Marketing Sparkler, we pride ourselves on providing high-end marketing resources to startups. We know our clients need these types of done for you templates to save time and eliminate confusion, and we are happy to be able to provide them at such an incredibly affordable rate!"
Marketing Sparkler's Create Launch Profit Monthly eSubscription Box service is set to 'go live' on Friday January 19, 2018. To find out more about the service and Marketing Sparkler itself, visit https://marketingsparkler.com
Release ID: 289723