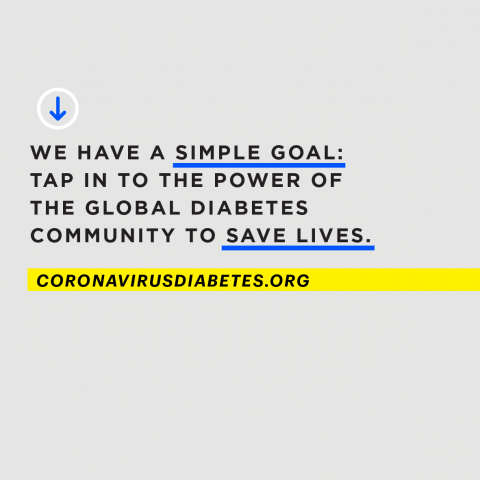 - June 9, 2020 /PressCable/ —
Marjorie's Fund joins a global effort to help reduce risk for people living with diabetes during COVID-19 pandemic.
Alongside the JDRF – Beyond Type 1 Alliance, Marjorie's Fund is sharing recommendations for people with diabetes during COVID-19, aiming to curb the spread of COVID-19 and protect those most vulnerable.
Early May 2020 – Together with the world's leading diabetes organizations, Marjorie's Fund is sharing guidance on high-impact COVID-19 prevention recommendations for people with diabetes. The recommendations aim to keep the most vulnerable to complications from COVID-19 safe until the pandemic has been contained. The recommendations were created by the JDRF – Beyond Type 1 Alliance and are also endorsed by the American Diabetes Association, Harvard Medical School and The International Society for Pediatric and Adolescent Diabetes (ISPAD). They can be found at coronavirusdiabetes.org.
Members of the diabetes community are among the most vulnerable to serious complications and death caused by coronavirus. While not everyone with diabetes — Type 1 or Type 2 — has the same level of risk, the recommendations target broad changes in behavior from everyone in the diabetes community to protect those members of the community who are the most at risk.
Medical Director and Marjorie's Fund Co-Founder, Jason C. Baker, MD states, "As people with type 1 diabetes, we are indeed at a slightly higher risk of getting COVID-19, and as is the case with any infection, diabetes gets harder to manage when you are sick."
It is estimated that 463 million adults worldwide are living with diabetes. To reach this vast network, a global digital campaign has been launched with the help of partner organizations around the world. The website and campaign materials are available in Spanish and English, with a goal of translation into as many languages as possible.
Along with the list of recommendations, coronavirusdiabetes.org includes a variety of other articles, downloadable graphics, videos and links to additional resources provided by JDRF, Beyond Type 1, and other partners. Organizations and companies looking to help in the effort can reach out to and email: coronavirus@beyondtype1.org.
—
About MarjoriesFund.org
Marjorie's Fund works to fill critical gaps in diabetes education and psychosocial support, improve healthcare access, and promote increasing economic self-sufficiency to ensure sustainable access to diabetes treatment and testing supplies.
Marjorie's Fund develops and implements programs that focus on three areas: healthcare access, diabetes education, and economic empowerment. They have compiled key takeaways for people living diabetes and coronavirus here: https://www.marjoriesfund.org/news/type1diabetes-coronavirus-2020.
They are honored to join the global diabetes community which the JDRF – Beyond Type 1 Alliance has unified with the information presented on coronavirusdiabetes.org.
Release ID: 88961276