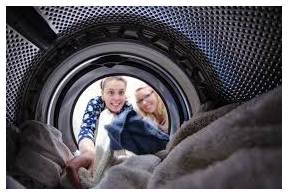 - March 11, 2021 /PressCable/ —
The experienced appliance repair company, Around The House Appliance Repair, has noticed an increased number of telephone calls for repair service on washing machines and dryers in Q1 of 2021.
The increase in laundry appliance repair costs has been on the rise since the beginning of COVID19. The appliance repair company owns several appliance repair companies in North Metro Atlanta and has seen the increase in repair costs in their Marietta, GA location.
The company has recently noticed a spike in calls for repairs to washing machines and dryers. "Washer problems don't occur on schedule. It's possible that when you start a load of laundry something may not seem right.' says Nick Stump, the owner of Around The House Appliance Repair.
Washing machine issues can range from the simple to the more major types of repairs or complex repairs as well as everything in between. To see a list of what some of the most common problems and repairs associated with washing machines this year, visit: https://www.aroundthehouseappliance.net/washing-machine-repair-marietta/
Around The House Appliance Repair repairs all major household appliances including, washing machines and dryers, refrigerators and ice makers, stovetops and ovens, and garbage disposals. Satisfaction is 100% guaranteed on all repairs. Around The House Appliance Repair's secret to success is straight forward and simple, take care of each appliance, whether it's in the kitchen or the laundry room, with quality parts based on the specific manufacturer specifications and fix only what is needed.
Stump said, "The goal of every one of technicians is to listen to the customer's concerns, listen to the appliance and or look at what the appliance is doing that causes the customer concern, diagnose the issue, get the right parts for the issue at hand and replace them correctly and test for a complete and proper repair that makes the customer 100% satisfied."
An example of this with a dryer might be as simple as changing the type of dryer sheets one uses as they can cause more lint. In addition to that having the dryer vents cleaned and sometimes it is necessary to replace the dryer vent hose, a source of house fires. More information about types of dryer issues and repairs can be found at: https://www.aroundthehouseappliance.net/dryer-repair/
Nick Stump and his technicians are continuously comparing data, checking to see if there is a common issue that these customer repairs have in common. Once identified they can reach out to their customers and let them know of preventative actions to minimize and/or even eliminate these repairs.
Release ID: 89000543