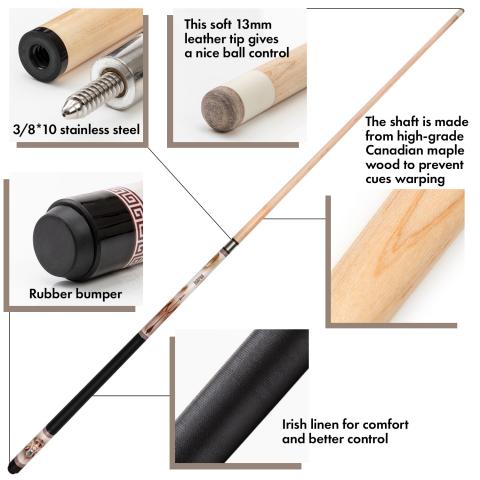 - November 1, 2020 /NewsNetwork/ —
WG Wholesale Inc. has launched its new 58" maple wood pool cue with accessories in one complete compact kit for pool and billiard players. This kit includes everything required to get into the game of pool and display a professional performance.
More information is available at https://www.amazon.com/dp/B08F765CHJ
The game of billiards requires a wide variety of equipment and accessories. It could be challenging for inexperienced players to get all the accessories right, and purchasing the accessories might be confusing for them. The PhoenixHit pool cue set offered by WG Wholesale Inc. has solved this problem for both seasoned and new billiard players.
The performance of a pool player is very much affected by the quality of the cue. The shaft on the cue can make a significant difference in creating deflection, which in turn affects the quality of the game. Plus, it affects how the stick feels on the player's hands, which is also a significant influence on how the player plays.
Watch the video here: https://youtu.be/ADoCr5KeP4E
This billiard cue is 58 inches and 19 ounces and is made of maple wood, which allows for a perfect hit without deflecting the ball. It is super-easy to carry since it breaks down into two pieces and comes with a separate bag.
The power and accuracy of players are boosted by the perfect grip made possible with the handle that is encased in Irish linen. This cue is highly moisture resistant because of the nine layers of garnish used in coating the high-grade Canadian maple wood.
The billiard stick also features a soft 13-mm tip made of leather, which gives perfect control over the ball.
In addition to the high-quality billiard stick, the kit features other essential accessories required in any game of billiards. It comes with a billiard glove, a chalk holder with a cube of chalk, joint protectors, and a bag with adjustable straps.
https://www.amazon.com/PhoenixHit-Pool-Cue-Stick-Set/dp/B08F765CHJ
More information is available at the link above
Release ID: 88983778