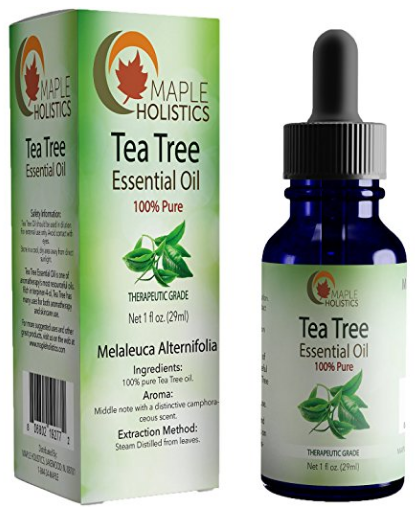 - December 5, 2016 /PressCable/ —
The authority on essential oils for personal care and health has done it again. Maple Holistics has announced the development and release of their brand new Pure Tea Tree Essential Oil. This release represents the latest in a long line of personal care oils introduced by Maple Holistics, including castor oil, jojoba oil, and lavender oil. Maple Holistics' Pure Tea Tree Essential Oil is therapeutic grade and ideal for anti fungal, scalp, and antiseptic benefits. Tea tree oil is rich in citrus, a natural moisturizer and moisture retainer, as well as a number of vitamins and minerals which promote scalp and skin health. Vitamin-E in particular stars in tea tree oil, protecting the skin against radicals and aging. Maple Holistics Pure Tea Tree Essential Oil is available for purchase now through the Maple Holistics website or via Amazon.com.
Tea tree essential serum is rich in citrus, which acts as a natural moisturizer and retainer of moisture. This makes for an oil which helps skin moisturize and retain moisture. Additionally, Vitamin-E, a strong antioxidant, helps protect the skin against the harmful effects of free radicals and premature aging. Vitamins A, B, C, and E help strengthen and effectively clean hair, making for shinier, stronger locks. Additionally, Tea Tree Oil is an ideal oil for massage, given its light viscosity and non-greasy texture. Maple Holistics uses premium cold press extraction methods to ensure all vitamins and nutrients remain intact and provide consumers with the most benefits possible.
Maple Holistics Pure Tea Tree Essential Oil is 100% pure and contains no impurities or fillers. The oil is paraben-free, made in the USA, contains no artificial colors or harmful ingredients, and is packaged in environmentally friendly, BPA-free bottles.
About the Company
Maple Holistics provides industry leading, all-natural hair, body, skin, and food products. The company offers a natural, holistic range of premium products which can enhance hygiene, health and daily living. Company products are made in the USA.
Release ID: 151669